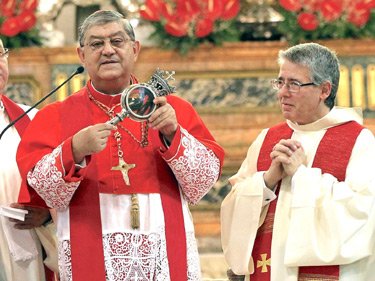 Cardinal Crescenzio Sepe, Archbishop of Naples, holding a flask believed to contain the liquified blood of San Gennaro at Italy's Naples Cathedral in 2013.
Three times a year, the dried blood of St Januarius, Patron of Naples and former bishop and martyr of the city, is said to turn to liquid and if it does not it is supposed to signal the start of a period of war, disease and famine.

He is believed to have been martyred during the infamous persecution of Christians during the rule of the Roman emperor Diocletian, who retired in 305, and is known in Italian as San Gennaro.

His bones and a reliquary of his blood are preserved in Naples' cathedral. …

The liquefaction of blood is said to happen the Saturday before the first Sunday of May, on September 19, the saint's feast day, and on December 16, the anniversary of the 1631 eruption of Mount Vesuvius.

During the miracle, the dried, red-colored mass confined to one side of the reliquary becomes blood that covers the entire glass, it is claimed.

But it failed to happen this December.

Monsignor Vincenzo De Gregorio, the Abbot of the Chapel of the Treasure of San Gennaro, ANSA, hopes prayer can prevent an outbreak of world war three or other disaster.
Wikipedia entry on Januarius.