The person screaming at the police is called Rebecca Goyette, and this person of uncertain gender is demanding that they assault a Canadian comedian named Gavin McInnes, whom I had never heard of. McInnes denies being a Nazi-Holocaust Denier &c. here.
Goyotte's claim to be a professor provoked skepticism, and investigation quickly found no asociation at all with New York University. Goyette's own vitae, however, claims this person to have been from 2011 to the present: an Adjunct Professor in the Art Department at Montclair State University and from 2007 to the present, a Museum Educator for the Museum of Modern Art.
What sort of art? The Rebecca Goyette web-site explains:
Rebecca Goyette creates persona-based works that poke holes in Puritanical sexual mores. Working in a wide variety of media, her extensive artillery features figurative drawing, video, performance, and handmade sculptural elements made from fabric, clay and found materials used in a ritual fashion. Many know her as Lobsta Girl, and Goyette has filmed her interspecies pornos detailing the sex lives of lobsters internationally. Originally, Goyette adopted the sexually aggressive female lobster as a primary character she performed live to promote female agency. Another alter ego to Goyette is the ghost of her direct ancestor, Rebecca Nurse hanged as a Salem witch, who is re-imagined cycling through repetitive power dynamics in fits and foibles in the "New World."

Situated within a largely queer, fantasy paradigm, her work is able to embrace a fruitful multiplicity of sexual desire and engage a panoply of non normative gender roles. As Judith Butler has articulated, in fantasy gender boundaries are transgressed with ease, there is no "single position within a fantasy; the identification is distributed among various elements of the scene."

For Goyette, sex is one gateway into the rich territory of psychology and human interaction, into the remotest ranges of the subconscious mind. Her schematic Lobsta Porn video series explores sexual fantasy scenarios with people playacting the magical sex lives of lobsters. Female species lobsters, for instance, approach and corner the strongest males, squirt them with aphrodisiac drugs out of their foreheads, and get inside their lobsta man-caves where they molt their shells in order to have sex. The males have two "dicks" that can impale the vulnerable lady flesh, meaning the female's entire body sans shell functions as a threshold of sexual potentiality. By developing complex characters based partially in the real (scientific fact, Puritan history, herstory, the annals of witchcraft, Goddess worship and the paranormal) and partially in fiction – Goyette is reality seamstress par excellence. With climactic wit she recounts the psychosexual dramas of time immemorial.

Goyette is as shameless about her characters' voracious sexual appetite as she is about connecting the female subject to nature and an animalistic lost Eden of sorts. Her videos function as titillating vignettes of a bawdry heroine in hot pursuit of total Love. Uncovering the truth of the mercurial nature of desire as she seeks blissful and eternal union with the "Other," Goyette peppers her colorful imaginary worlds with complicated personal memories and whenever possible, willing participants in the flesh. Working with a gender fluid, multiracial cast of personae as collaborators and accomplices, her live action performances and performance videos feature human sexuality unleashed. Goyette's work is a perfect illustration of how, as expressed by theorist Elizabeth Cowie desire "is most truly itself when it is most 'other' to social norms."

Ornately adorned in the absurd skins of her hand-sewn costumes, Goyette's characters wreak havoc with traditional sexual mores in a playland where there are no experts and no actors. Their performative gestures and actions shine light on the myriad of curiosities lurking in truly intimate encounters – raw, vulnerable and at times, otherworldly.
For the contemporary Left, the road to privileged political insight and definitive moral superiority runs through Lobster porn.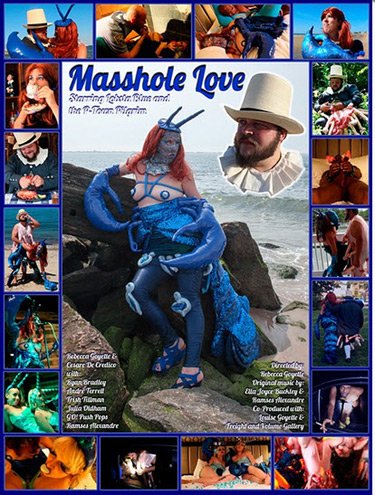 Megan Fox article
Liberty Zone article
Rebecca Goyette makes Dildo Statues out of baby doll parts. here
Hat tip to Karen L. Myers.