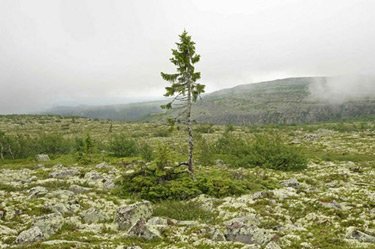 Really, it's a 9,550-Year-Old root system. Vintage News:
The oldest living cloned Norwegian Spruce can be found in Sweden on Fulufjallet Mountain. It is at least 9,550 years old, sixteen feet tall, and is called Old Tjikko.

This tree isn't the oldest living tree in the world, but it is the oldest living, clonal Norway Spruce. Umea University geography professor, Leif Kullman discovered this tree and gave it the name "Old Tjikko," after his dog that had died.

During its life cycle of thousands of years, the tree grew as a stunted shrub (krummholz formation) because of the harsh environment in which it lives and the extreme weather conditions. However, during the Earth's warming that has occurred over the last century, the tree has now begun a growth cycle of natural tree formation, and its transition to a healthy growth structure is due to global warming.

It has been recorded that during the ice age, the sea level was much lower than today, as much as 120 meters lower. So, what is now the North Sea between England and Norway was at that time barren forest land. And during this period, winds and low temperatures made the growth of "Old Tjikko" similar to that of a bonsai tree; under these harsh conditions, a large tree could not sustain the growth to get this old.

The primary reason for the survival of this tree over such an extended period is because of vegetative cloning; this means that although the part of the tree that is visible is still relatively young, it is a part of an ancient root system which dates back thousands of years.