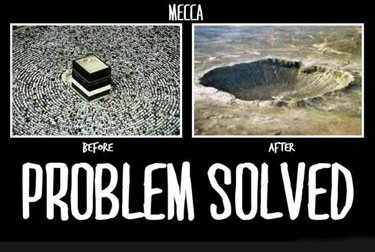 An engaging little story by an unknown author playfully imagines the permanent solution to the problem of the religious obligation of the Islamic faithful to wage war upon unbelievers.
They were all gathered in one place. The Hajj was the perfect time to have a strategy and coordination meeting. The blessings of Allah and his prophet were on them all. They had just sat down to a meal of traditional rice and lamb and were going to save the business talk for later. They had time. Their sources told them that their enemies were on the run and had unilaterally given up and gone home. The hated Americans had no stomach for a fight and abandoned Iraq, Afghanistan, and the rest of the Islamic world. Even the filthy Jews seemed to have pulled back their spies and allies to their own territory. This was the perfect time to go on the offensive. The entire Western world would learn submission.

***

On the border between India and Pakistan, a different conversation is taking place. A junior captain in the Indian Strategic Rocket forces has an uncontrollable smile on his face. "REALLY? You would not be shitting on me like this?" His commander confirms, "it is an order, from the top. We will be eliminating our nuclear stockpile as part of our new treaty with America and the Russians. A Global peace initiative." The Indian captain smiles broadly. Good cheer spreads to the other officers in the room and he sat at his control console and began to enter the instructions.

***
35,000 feet over the Islamic Republic of Iran, an obsolete Russian Airplane was lumbering along on a direct path to Tehran International Airport. The pilot was hand chosen. He had lost his only son when Islamic terrorists stormed the child's school years earlier. He didn't really care about the orders he had. Something about global peace initiative to reduce nuclear stockpiles. But he was really happy to be delivering this particular cargo.

***
Mecca – Coffee was being served and greasy hands were being cleaned on shirt fronts. Servants were carrying away the remains of the feast.

Then it all changed in a blink.

The people inside did not even have time for their minds to register confusion about what was happening to them.

And then they were gone.
Read the whole thing.
Hat tip to Vanderleun.