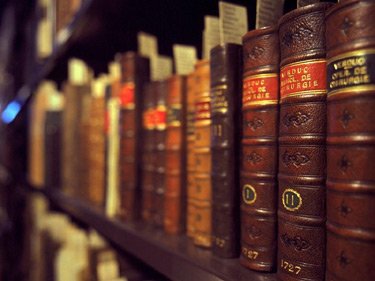 More on the Great British Book Heist that took place last January in Daily Beast:
Late in the night on Jan. 29, three still-unknown thieves drilled through the skylight of a building near Heathrow Airport and rappelled 40 feet to the floor, bypassing the security alarms.

They went straight to six specific crates that contained three dealers' worth of books that were en route to the California International Antiquarian Book Fair in Oakland.

Over the course of several hours, they unloaded the books they wanted into duffel bags, belayed their loot to the roof, and took off in a waiting van. The haul totaled nearly $2.5 million.

"Behind these books there is a lot of work because we have to search to try to find out where the books are—auction houses, collectors, colleagues—and there's big research behind these books," Alessandro Meda Riquier, one of the affected dealers, tells Sky News. "They are not only taking money away from me but also a big part of my job."

Riquier was the owner of several of the most noteworthy tomes that were taken in the heist. The most expensive book was a second edition of Copernicus's On the Revolutions of the Heavenly Spheres from 1566 in which the astronomer introduced his revolutionary theory that the sun—not the Earth—is the center of the universe.

That book alone is worth over $250,000. Among the rest of the trove are several rare editions of Dante's Divine Comedy and a smattering of Galileos, Newtons, and da Vincis, among other titles from the luminaries of the early sciences.

All in all, it is the quantity of books stolen rather than the individual titles that make this heist so significant.

"The books were there for only a short time in that warehouse, and this is a very exotic commodity so this is not something that the average person thinks that they can sell," Jeremy Norman, a rare book dealer with a specialty in the early sciences, tells The Daily Beast. "I think it's a real mystery. You really wonder how they knew the stuff was there, and the timing of it, and how they were shipped off, and what the real motivation was."

Several theories have been offered as to why the thieves went after this quarry. One suggests that this may have been a "made to order" theft, one in which a buyer specifically commissioned the thieves to take these titles.

Similar to fine art, stolen antique books are very difficult to sell on the legitimate market—and thereby net the title's full value. When a rare book crime becomes known, organizations like the Antiquarian Booksellers Association of America (ABAA) quickly take action to alert their members to the volumes that were stolen so dealers can be on the lookout for anyone trying to offload a tainted treasure.
Earlier report.