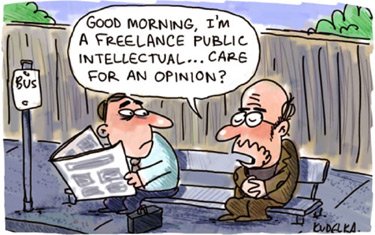 The Chronicle of Higher Education has this excerpt from Daniel Drezner's new book, The Ideas Industry, behind a paywall. But that rascal Fred Lapides has the whole thing on his EGS amalgamating site.
It is the best of times for Thought Leaders. It is the worst of times for Public Intellectuals. It is the most confusing of times for those of us in the academy.

Let me unpack these terms. Public Intellectuals are experts, often academics, who are well versed and well trained enough to comment on a wide range of issues. As Friedrich Hayek put it, Public Intellectuals are "professional secondhand dealers in ideas." Think Paul Krugman or Jill Lepore. A Thought Leader is an intellectual evangelist. They develop their own singular lens to explain the world, and then proselytize to anyone within earshot. Think Robert Kagan or Naomi Klein.

Both Public Intellectuals and Thought Leaders engage in acts of intellectual creation, but their style and purpose are different. To adopt the language of Isaiah Berlin, Public Intellectuals are foxes who know many things, while Thought Leaders are hedgehogs who know one big thing. The former are skeptics, the latter are true believers. A Public Intellectual will tell you everything that is wrong with everyone else's ideas. A Thought Leader will tell you everything that is right about his or her own idea.

Both intellectual types serve a vital purpose in a democracy. Public Intellectuals are often bashed as elitists, but they help to expose shibboleths masquerading as accepted wisdom. They are critics, and critiquing bad ideas is a necessary function. Their greatest contribution to public discourse is to point out when an emperor has no clothes. Thought Leaders, on the other hand, are often derided as glib TED-talkers lacking in substance, but they can introduce and promote new ideas. During times of uncertainty and change, Thought Leaders can offer intellectually stimulating ways to reimagine the world.

A public sphere dominated by Public Intellectuals has high barriers to entry; the marketplace of ideas becomes ossified and stagnant over time. One dominated by Thought Leaders has high barriers to exit; too many bad ideas linger in the intellectual ether. A healthy public discourse in which good ideas rise to the top requires a balance between the two types of thinkers.