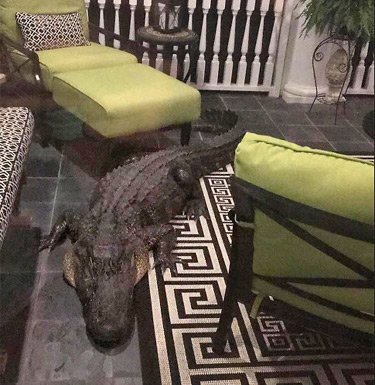 Susie Polston had fallen asleep watching "Friends" on television. She woke in the late night to a loud intruder on the porch outside her Mount Pleasant home.

"Somebody's trying to break into the house," she told her family. They secluded themselves in the master bedroom and called 911. But then the racket quit. Ben Polston, 16, her son, snuck a look and started yelling, "Oh my God, I found it! I found it!"

He'd found it all right. In the early hours of Easter, a nearly 10-foot alligator had clambered up the back stairwell to the second story porch of their home, crunched through the aluminum screen door and made itself at home between the sofa and a swinging bench. It lay there like a plastic prank, but when they rapped on the window glass, it lifted its head.
Hat tip to Karen L. Myers.