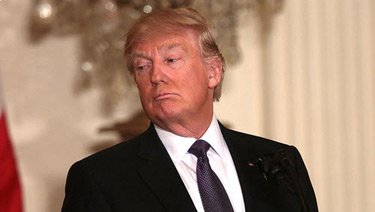 Jeffrey A. Tucker explains exactly why Donald Trump is driving liberals batty.
This frenzy even has a name: Trump Derangement Syndrome. It is an identifying state of mind. It has particular symptoms.

To be sure, I read these pieces and don't entirely disagree with the particulars of the analysis. In none of our lifetimes have we seen anything like this. The stodgy, serious, protocol-driven attempt to bring high dignity to this office has been a main concern of government. When it came out that Bill Clinton was using his power and office for private pleasures, it rattled the establishment, not because of his sins but because his behavior elicited ridicule from the public. …

But there is something off about this center-left tendency. These commentators are driven to wild apoplexy by Trump, but not for the reasons I would normally cite. I don't like his trade theories, his views on immigration, his shabby understanding of the problem with American health insurance, his ramping up of the police state, or his foreign policy. I was calling him out on all of this as early as July 2015.

Their complaints are contradictory. They, on the other hand, seem to object to the very existence of Trump, his every utterance, his actions no matter what they are, and everything related to this new administration.

Their complaints are contradictory. He is terrible because he is doing terrible things! He is terrible because he is not really doing anything! This presidency is destroying the world! This presidency is all sound and fury and nothing else!

It finally struck me why. For this crowd, all their hopes and dreams are bound up with particular political processes, outcomes, and institutions. The state is their favorite tool for all the good they aspire to do in this world. It must be protected, guarded, defended, celebrated. The illusion that the government is not a taker but a giver and the source of all good things must be maintained. The gloss of the democratic process must be constantly refurbished so that the essential sanctity of the public sector can be constantly cited as the highest calling.

The center-left has at least one hundred years of work and resources invested in the state's health, well being, reputation, and exalted moral status. Nothing must be allowed to threaten it or take it down a peg or two. Any failures must be deemed as temporary setbacks. The slightest sign of some success must be trumpeted constantly. The population must be subjected to unrelenting homilies on the essential holiness of the public sector.

Their education told them this. Their degrees and ruling-class pedigree were hard earned. This is what has inspired them. They believe so strongly that they can make the world a better place through the managerial state that it has become their religion. It's their very core!

Above all else, the president is supposed to represent. His duty is to reflect and broadcast this sensibility.

Writing in 1944, Ludwig von Mises wrote that the debate over the future of freedom is not only about beating back socialism, communism, fascism, interventionism, and so on. There is broader discussion to be had. The core problem is the ideology of statism, a word he took from the French term etatism. It identified a view that the state should always and in everything be the central power, organizing principle, and spiritual core of any society. It must be the final judge, the final arbiter, the center of our loyalties, the one indispensable institution because it alone is deserving of our highest devotion and ideal. It must be forever built, larger and larger, taking on ever more responsibility and taking ever more money and power from the rest of us.

The president is supposed to at least pretend to be the high priest of the statist religion. That's his job, according to this outlook.

Everything seemed to being going so well under the Obama administration, which was so earnest, so decorous, so civil. He was funny, smart, respectful of process, and sincere in his pronouncements. He ran on hope and change but governed as the person who kept hope for a new freedom and any radical change at bay.

Trump has profoundly disturbed the balance. He overthrew the respective establishments of two parties, tore right into the legitimacy of the national press, humiliated every expert who predicted his demise, and is now stumbling around Washington like a bum in a jewelry store. He is not actually cutting back on the size of the state; he is doing something even more terrifying from the center-left point of view: he is ruining the mystery of the state, and thereby discrediting their holy institutions.

After the election, I wrote that this might be our 1989. What I meant is that major aspects of what we always thought would be true were suddenly not true any more. New possibilities have opened up. An older establishment has been discredited if not overthrown. What comes next is another matter.

Trump is not a liberator in any sense. His temperament suggests the opposite. It was he who famously said in the campaign: "The nation-state remains the true foundation for happiness and harmony." Moreover, and in many ways, the deep state has regrouped and bitten back to avoid losing power and influence in Washington.

Even so, he is everything that the center-left fears most, a person who works, despite himself, to discredit the thing they love the most. He has demoralized them beyond consoling. Now we are seeing talk of impeachment. This seems to be some people's last hope for saving the old faith.