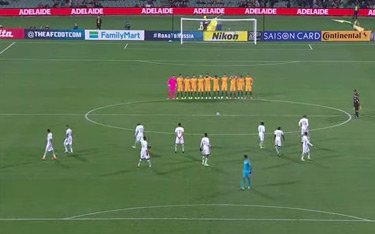 The Australia team link arms on the halfway line as the minute's silence begins. The Saudi team stood at their respective positions on the field, not participating in honoring the victims.
The Telegraph explains what happened.
The Saudi Arabian football team were booed by Australian supporters after they failed to properly line up for a minute's silence in honour of the victims of the London Bridge terror attacks.

Saudi Arabia were preparing to play Australia in a World Cup qualifier at the Adelaide Oval when the stadium announcer called for a minute's silence to begin.

The Australia team linked arms in a line on the centre circle while the Saudi Arabia team stood in random formation as the silence began.

According to Adam Peacock, who works as a presenter for Fox Sports in Australia, the Asian Football Confederation approved the minute's silence against the wishes of Saudi Arabia.

The Football Federation of Australia were then unable to persuade Saudi Arabian officials to agree to participate in the tribute.

A number of Saudi Arabian players stood still with their arms behind their back while others appeared to continue their warm up.
———————————
The Wall Street Journal reports that an official apology was quickly forthcoming.
Saudi Arabia's Football Federation apologized on behalf of the country's national soccer team for failing to observe a minute's silence for victims of a recent London terrorist attack ahead of a World Cup qualifying match against Australia.

The incident prompted a furious response in Australia, with the crowd jeering the Saudi team, which instead of lining up moved into positions for the coming match on Thursday as Australia's players linked arms to pay silent respects to victims. While many of the Saudi players stood still, others including the team captain, Osama Hawsawi, continued warm-ups and stretches.

Eight people died in Saturday's attack in London, among them two Australians.

The Saudi Federation said Friday it condemned "all acts of terrorism," adding that it "deeply regrets and unreservedly apologies for any offense caused by the failure of some members of the representative team of the Kingdom of Saudi Arabia to formally observe the one minute's silence in memory of the victims of the London terrorist attack."

"The players did not intend any disrespect to the memories of the victims or to cause upset to their families, friends or any individual affected by the atrocity."