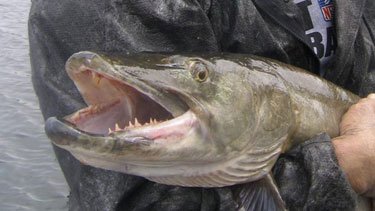 Ryan Kesselhon couldn't figure out what was happening to his 11-year-old daughter, Maren. One minute, Maren had been peacefully dangling from her family's paddleboard in Island Lake on Wednesday afternoon. The next second she was screaming wildly.

"I couldn't figure out what she was screaming about," Ryan Kesselhon said. "Then she lifted her foot out of the water, and I could see it was filleted open in many places."

Closer examination revealed she had been cut in 25 places, mostly on her upper ankle and on top of her foot, Kesselhon said.

"There were nine deep lacerations that required stitches," Kesselhon said.

Nobody knows for sure what attacked Maren while she was hanging on the paddleboard near the Minnesota Power boat launch on the east side of Island Lake. But Maren has her hunches.

"My daughter, right away, when I pulled her out of the water, she thought it was a fish," Kesselhon said. "She could feel her foot in its mouth. She kicked it with her other foot. It released, but it left a torn-up foot."

Maren had to undergo surgery at Essentia Health to repair her tendon and to stitch up her wounds, Kesselhon said in a telephone interview Thursday. Doctors there told him they thought it was likely that a fish had caused the lacerations.
The photo of her injuries is horrific.