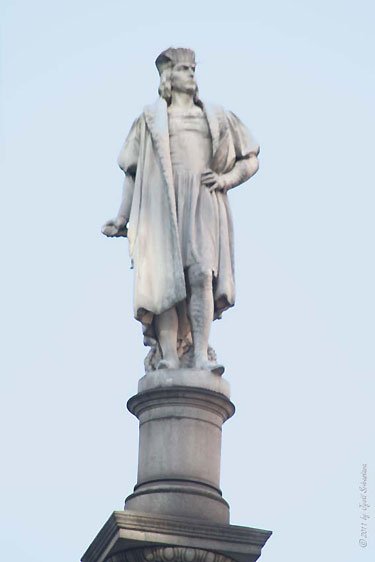 How much longer will Christopher Columbus look out over New York's Columbus Circle?
Mayor de Blasio opened a historical can of worms Tuesday in his quest to rid the city of offensive monuments, ducking for cover when asked if Grant's Tomb might be shuttered because of actions two centuries ago.

The mayor had no ready answers when pounded with questions about flawed historical figures, from Ulysses S. Grant to little-known former New York Gov. Horatio Seymour, who are being honored in the city.

Grant issued an order to expel Jews from three states during the Civil War while Seymour's campaign slogan in 1868 was "This is a White Man's Country; Let White Men Rule."

Monuments to Christopher Columbus have also sparked criticism over his treatment of native populations.

"We're trying to unpack 400 years of American history here — that's really what's going on," de Blasio said defensively.

"This is complicated stuff. But you know it's a lot better to be talking about it and trying to work through it than ignoring it because I think for a lot of people in this city and in this country, they feel that their history has been ignored or affronts to their history have been tolerated."

Hizzoner at one point acknowledged he hadn't considered whether the review should include portraits until the one of Seymour hanging inside City Hall was mentioned.

He also couldn't say whether school names or other dedications would be reconsidered.

"To some extent the commission's going to have to figure out what are the appropriate boundaries," de Blasio said. "We may end up doing this in stages because this is complex stuff."
———————————
In the Guardian, Afua Hirsch is demanding that Britain follow the American example and remove Lord Nelson from his column in Trafalgar Square. Sure, Nelson won the battles of the Nile, Copenhagen, and Trafalgar, and prevented a Napoleonic Invasion of England, but, hey! what about the black contribution to British history?
We have "moved on" from this era no more than the US has from its slavery and segregationist past. The difference is that America is now in the midst of frenzied debate on what to do about it, whereas Britain – in our inertia, arrogance and intellectual laziness – is not.

The statues that remain are not being "put in their historical context", as is often claimed. Take Nelson's column. Yes, it does include the figure of a black sailor, cast in bronze in the bas-relief. He was probably one of the thousands of slaves promised freedom if they fought for the British military, only to be later left destitute, begging and homeless, on London's streets when the war was over.

But nothing about this "context" is accessible to the people who crane their necks in awe of Nelson. The black slaves whose brutalisation made Britain the global power it then was remain invisible, erased and unseen.

The people so energetically defending statues of Britain's white supremacists remain entirely unconcerned about righting this persistent wrong. They are content to leave the other side of the story where it is now – in Nelson's case, among the dust and the pigeons, 52 metres below the admiral's feet. The message seems to be that is the only place where the memory of the black contribution to Britain's past belongs.