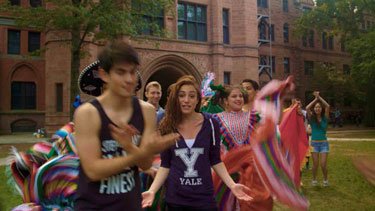 Alumni cringed back in 2010 when the Admissions Office released its execrable "That's Why I Chose Yale" recruiting video. (Reviled here and here)
Well, Time replaces the jejune just as it does the superb, and the Yale Admissions Office (seven years later) has issued a brand new video with only a slightly modified title.
The guides are computer major Simone (who needs to wash her hair) and double major Classics and Political Science Sam (who seems a little gay). From the very start, biases toward the demotic and the "diverse" are pronounced. As the tour begins moving away from Phelps Gate on the Old Campus, guide Sam calls for musical accompaniment and a string quarter batting out "Eine Kleine Nachtmusik" appears out of nowhere, only to be rejected in favor of "something with a beat."
We had already previously been promised that, at Yale, one could study with "a renowned Shakespeare scholar" and "perform slam poetry at a cultural center." When we get to the libraries, we are informed that Beinecke contains "one of the world's largest collections of rare books and manuscripts, including ancient Egyptian papyrus, one of Beethoven's original scores, and (inadvertent crashing anticlimax) manuscripts written by Langston Hughes." (!)
Clearly, we are being given to understand that Yale is a fashionista establishment institution, only too eager to reject standards and judgment, trivialize the canon, and concede equality of cultural prestige to tokens. "We don't want Mozart, we want something with a beat." "Shakespeare wouldn't do without some slam poetry on the side." "Langston Hughes is purportedly somehow on a par with Beethoven."
At Yale, the sciences we learn are "hands on," and you won't just sit through lectures, struggle through your labs, and get hammered with quizes and exams, no, no no. Why Yale science students "innovate solutions to some of the world's greatest challenges." Back in my day, all we did was try to pass the exams. We did, however, avoid the joke explosion ending the laboratory portion of the tour.
It gets painful to watch when they start touting the Yale residential college system. Today, college assignment, we are assured, is totally random. But residential colleges all have individual distinctive identities and traditions. (Presumably random ones.)
The college we get to see is Silliman, infamous site of the Christakis lynching and the shrieking student. There is no Master of Silliman now. The title of Master was deemed offensive and changed to "Head." In the old days, college masters were male, aged, and distinguished scholars. Silliman's "Head" these days is Laurie R. Santos, obviously a two-fer token (female and Hispanic), barely 40, and a canine cognitive studies specialist from the Psych Department. The video assures us that she ensures that each student feels welcome and gets to know every single one of them personally. She even apparently beats them at chess. In my day, most of us were on nodding-and-saying-hello terms with our College Master. He never specifically made any of us "feel welcome" nor did he tuck us in at night.
The residential colleges seem even more loaded with amenities today. They still have pool tables and ping pong, but there was no mention of squash courts. Colleges seem to have in-house non-dining hall after hours food facilities, which they call butteries. In the old days, there was one Buttery, on the ground floor of Durfee, which sold candy and such like during very limited evening hours. The colleges now all have their own work-out rooms, the Yale Gym clearly being too far to walk.
And so on.
This video is not as actively embarrassing, I suppose, as its predecessor, but it still leaves the alumni viewer slightly nauseated.
It is so offensively self-congratulatory, politically correct, and millennial-ish. One sort of feels like alien beings from the Planet of PC Tools have taken over Yale. They smile all the time. They think all the right thoughts. They worship materialism and success, but they are strangely empty. They have no dignity, no gravity. Ideas, Art, Culture are all just names and baubles to these people, ornamental trinkets lying around a grand nest of human magpies.
There is all this goody-goody-ness, but there is no sense whatsoever of Tradition, History, Duty, Honor, or Respect for the Past.
If I'd seen this video in high school, I would not have wanted to go to Yale.