We live in an appalling age. When the White House requested a (conventionally granted) loan of a painting by Van Gogh from New York's Guggenheim Museum, the kind of request that constitutes an honor and an opportunity for institutional service to the nation, the museum's chief curator proved incapable of rising above the most vicious kind of political partisanship and responded with a crude gesture of vulgarity designed to express the highest degree of contempt while supposedly flourishing that establishmentarian curator's skill at drawing upon the canon of the Arts.
The Washington Post gloatingly reported:
The emailed response from the Guggenheim's chief curator to the White House was polite but firm: The museum could not accommodate a request to borrow a painting by Vincent van Gogh for President and Melania Trump's private living quarters.

Instead, wrote the curator, Nancy Spector, another piece was available, one that was nothing like "Landscape With Snow," the 1888 van Gogh rendering of a man in a black hat walking along a path in Arles, France, with his dog.

The curator's alternative: an 18-karat, fully functioning, solid gold toilet — an interactive work titled "America" that critics have described as pointed satire aimed at the excess of wealth in this country.

For a year, the Guggenheim had exhibited "America" — the creation of contemporary artist Maurizio Cattelan — in a public restroom on the museum's fifth floor for visitors to use.

But the exhibit was over and the toilet was available "should the President and First Lady have any interest in installing it in the White House," Spector wrote in an email obtained by The Washington Post.

The artist "would like to offer it to the White House for a long-term loan," wrote Spector, who has been critical of Trump. "It is, of course, extremely valuable and somewhat fragile, but we would provide all the instructions for its installation and care."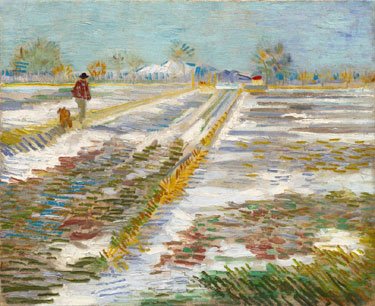 Vincent van Gogh, Landscape with Snow, 1888, Guggenheim Museum.
Proving that the big brains at the Guggenheim, who so look down on Trump, are actually the kind of idiots willing to accept a gold-plated toilet, created as a slur on the same free enterprise system that funded the Guggenheim's creation, as "art" worthy of presentation by a major museum. I've seen Donald Trump's interior design choices, and I could picture Donald Trump having gold-plated thunderboxes in his penthouse, but he'd be sensible enough to use them practically. Trump wouldn't take a gold-plated crapper as some kind of artistic statement unlike the dodos sitting atop our arts establishment.
Can anyone picture the head of a prominent museum, just a few decades ago, indulging in such a spiteful, vulgar, and scatological expression of partisanship? People simply did not behave like that. They had enough good sense to recognize that no political party possessed a monopoly of good intentions or virtue and that one's preferred side inevitably sometimes lost. If someone in a responsible position did not happen to like the current occupant of the White House, he simply did his job and kept his feelings and political opinions to himself. Today's establishment is made up of self-righteous simpletons, eaten up with self-entitlement, lacking common sense, decency, and good manners.