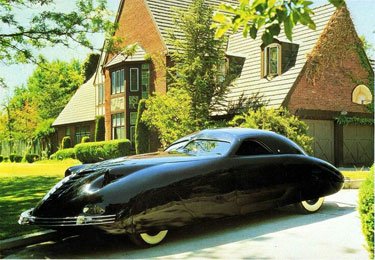 1938 Phantom Corsair — The Phantom Corsair is a prototype automobile built in 1938. It is a six-passenger 2-door sedan that was designed by Rust Heinz of the H. J. Heinz family and Maurice Schwartz of the Bohman & Schwartz coachbuilding company in Pasadena, California.
Rust Heinz planned to put the Phantom Corsair, which cost approximately $24,000 to produce in 1938 (equivalent to about $370,000 in 2010), into limited production at an estimated selling price of $12,500. However, Heinz's death in a car accident in July 1939 ended those plans, leaving the prototype Corsair as the only one ever built.
The Phantom Corsair now resides in the National Automobile Museum (also known as The Harrah Collection) in Reno, Nevada.
The automobile was featured as the "Flying Wombat" in the David O. Selznick film The Young in Heart (1938), starring Janet Gaynor, Douglas Fairbanks, Jr., Paulette Goddard, and Billie Burke.
The Corsair was also featured in a segment of the Popular Science film series in 1938.
The car is one of the rare vehicles that is unlockable during free roam in the 2002 video game Mafia: The City of Lost Heaven.
The Corsair is one of the 15 rare drivable vehicles featured in the 2011 video game L.A. Noire.