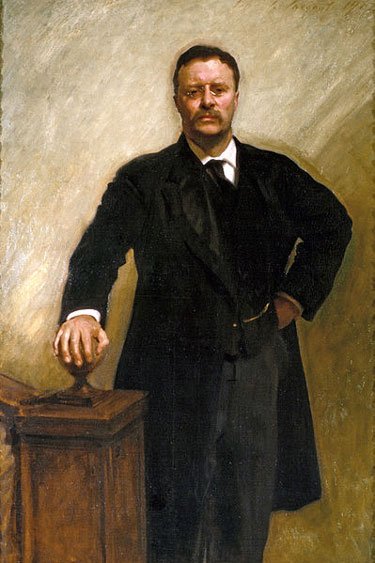 John Singer Sargent, Theodore Roosevelt, 1903, White House.
The Art of John Singer Sargent in the White House:
The commission for the painting was arranged in 1902, likely at the behest of architect Charles McKim, who was then under Roosevelt's direction. Sargent was living in London at the time, but expected to return to the United States to continue work he had undertaken for the Boston Public Library. When Sargent agreed in May 1902 to paint the president's picture, Roosevelt wrote to him that "it seems to me eminently fitting that an American President should have you paint his picture. I cordially thank you."

Sargent arrived in the United States in January 1903 and came to live in the White House the following month. At first, the personalities of the two men made progress difficult. Sargent was especially picky about the location where he would ask the president to pose, and Roosevelt was notoriously prickly and impatient with directives. According to one account the president was leading the artist upstairs when the two got into an argument. Roosevelt accused Sargent of not knowing what he wanted, and the artist retorted that the president did not know how to pose. Furious, Roosevelt turned around, grabbed the newel-post with his right hand and yelled "Don't I!"—at which Sargent told him to hold his pose right there. Sargent completed his portrait on February 19 after several sessions. The president's refusal to pose for more than half an hour at a time annoyed the painter, but Roosevelt was delighted with the results, professing to "like his picture enormously."
HT: Bercik.