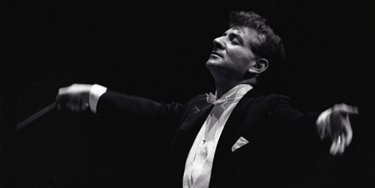 It's Leonard Bernstein's centenary this year, and Alex Ross, in the New Yorker, commemorates the great popularizing conductor with a tribute mixing praise, uncomplimentary gossip, and this regretful perspective on the passing of both Bernstein and his times.
His charisma was indeed potent, but as Bernstein recedes into history he seems more a product of his time than an agent of transformation. He came of age in the New Deal era, when the federal government sank hundreds of millions of dollars into the arts. He benefitted from the cultural politics of the Cold War, even as he suffered under McCarthyism. He launched music-appreciation projects on television at a time when network executives considered Stravinsky's serialist score "The Flood," with choreography by Balanchine, suitable for a mass public. The aspirational America of the mid-twentieth century was looking for a Bernstein—a native genius who could knock off Broadway tunes as fluently as he conducted Brahms—and one was duly found. There will not be another, not because talent is lacking but because the culture that fostered him is gone.
He was obviously talented, but he was, in my opinion, as a conductor, far too commonly heavily-handedly didactic, popularizing, and obvious in his approach. He usually seemed to be less conducting, than lecturing de haut en bas from his perch atop the American cultural establishment to a mass 1950s television audience. I thought his appointment to conduct the New York Symphony a terrible descent into vulgar American populism from the era of Bruno Walter. But every once it a while, he was very very good. I can recall hearing an excellent version of some Haydn Symphonies by Bernstein.
I remember, as the years went on, Bernstein became more political in an extremely obnoxious rich-fashionista-poseur-striking-revolutionary-poses manner. His obsequious dallying with Black Panthers brought down on him the gods's wrath, delivered in the form of a scathing essay by Tom Wolfe which may become Bernstein's best-remembered memorial:
Mmmmmmmmmmmmmmmm. These are nice. Little Roquefort cheese morsels rolled in crushed nuts. Very tasty. Very subtle. It's the way the dry sackiness of the nuts tiptoes up against the dour savor of the cheese that is so nice, so subtle. Wonder what the Black Panthers eat here on the hors d'oeuvre trail? Do the Panthers like little Roquefort cheese morsels wrapped in crushed nuts this way, and asparagus tips in mayonnaise dabs, and meatballs petites au Coq Hardi, all of which are at this very moment being offered to them on gadrooned silver platters by maids in black uniforms with hand-ironed white aprons . . . The butler will bring them their drinks . . . Deny it if you wish to, but such are the pensées métaphysiques that rush through one's head on these Radical Chic evenings just now in New York. For example, does that huge Black Panther there in the hallway, the one shaking hands with Felicia Bernstein herself, the one with the black leather coat and the dark glasses and the absolutely unbelievable Afro, Fuzzy Wuzzy-scale in fact—is he, a Black Panther, going on to pick up a Roquefort cheese morsel rolled in crushed nuts from off the tray, from a maid in uniform, and just pop it down the gullet without so much as missing a beat of Felicia's perfect Mary Astor voice. . . .