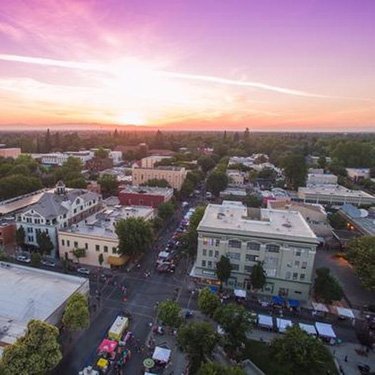 Gerard van der Leun, now a refugee burned out of his home, with the loss of everything, by the fire that swept over Paradise, California, is in Chico and reports that the good people of that town are acting like real Americans.
Near closing time in the men's Clothing Clearance Corner on the first floor of Penny's at the Chico Mall, a young girl is replacing the piles of tossed clothing left by the numbed shoppers from Paradise frantic for cheap basic clothing. Some of them are camped in tents somewhere close by the mall; for how long nobody knows. But this young, quietly lovely girl is putting the Clothing Clearance Corner back in apple pie order as the store's dismal day closes. I take my few finds from the Clothing Clearance Corner and, leaving, say, "That seems like a thankless task."

"Not at all," she replies. "Not at all."

"Really? Why the hell not?"

"Hey, I do this job every day in this store. It's my assigned task and usually its okay but I only do it for the money because it gets really monotonous, meaningless."

She's a student, I perceive.

"But today those people really needed these clothes in this corner because of the price. And tomorrow more people like that will really need them too. And so I want to make this the best I can for them. So I'm going to put it all back on hangers and arrange them by size. It will be right by the morning. You better go. We're closing. Thank you for coming in."

Just a young girl working late in the Clothing Clearance Corner. Doing one of those little jobs; one of those jobs that actually make the world turn. She was leaving it all on the field.

At the ends of the neighborhood streets, I see people setting up tables and I see the people of the neighborhoods coming out onto the main streets and putting out whatever they have to give there for the taking if needed. They are literally leaving it all on the field.

At the Elks Lodge after I picked up some bedding and a few new pillows and looked out over acres of goods being laid out for the taking, from flats of pet food to cribs and playpens (someplace safe to rest your baby that is not on your hip). As I was leaving to see the East Avenue Church scene an Elk (My late father was a member of this lodge up until his death in 1972); a brother, I say, of my father waves me over and opens the back seat of my car and puts in two cases of one liter bottles of San Pellegrino . The Elks are leaving it all on the field.

In the 24-Hour Walgreens Pharmacy on East Avenue, the pharmacists have been working overlapping shifts since the fire swept over Paradise last Thursday. These people and their back up staff work seemingly rock solid for hours on end. They fill and file and dispense medications which people from Paradise do not have with them. This is a demanding and thankless and exhausting task. And yet — I am the witness — they have been doing this without letup. Many have come in from surrounding towns, from Redding, to help and to keep the medications needed by a town of 30,000 displaced into a city of 80,000. Yes, the Walgreens pharmacists are leaving it all on the field.