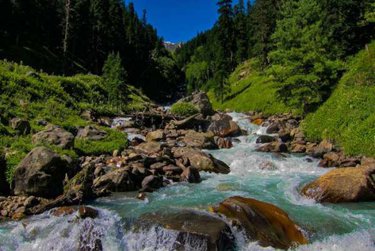 Full-of-crap Outside Magazine peddles a magical mystery tale about disappearing tourists in the Himalayas.
There is only one road in and out of the Parvati Valley. It's a narrow track—roughly paved in parts, washed-out dirt in others—along which rattletrap buses swerve and screech to a crawl with inches to spare as they pass. Mountains rise up one side, and cliffs drop precipitously down the other, often hundreds of feet to the Parvati River below. The milky blue waters, named after a benevolent Hindu goddess of fertility and devotion, seem inviting but can be a powerful, violent force.

The valley's hillside hamlets and postcard mountain vistas attract tens of thousands of tourists every year, but those who come here are different from those who speed through the Taj Majal on a Golden Triangle tour or backpack from vibrant temple to sparkling beach as the mainstay of India's tourism. The travelers who feel drawn to the Parvati Valley, more than a full day's bus ride north of New Delhi into the Himalayas, quickly settle into a pace of life common in this remote corner of India: a blur of weeks or months spent meditating, practicing yoga, and consuming copious amounts of hash grown in clandestine plantations or from plants that sprout wild along river and road.

The valley, where gods are said to have meditated for 3,000 years, is particularly alluring to the spiritually curious. Every summer, the valley hosts a Rainbow Gathering, a counterculture congregation that promotes anti-consumerism and utopianism. Many visitors come to venerate Shiva, husband of Parvati and one of the most exalted and popular gods in the Hindu pantheon. Among Shiva's most resolute followers are the sadhus who dress and live in emulation of the gods, but many Westerners are also lured by his familiar symbolism as the dreadlocked master of meditation and yoga and the supreme renouncer of possessions, and follow suit. Those who follow this path view the Parvati Valley as a penultimate stage or even the culmination of their quest for enlightenment. It is a place where wandering ascetics, New Age neophytes, and determined religious tourists flock, believing that the bumpy road to nowhere instead leads to long-sought answers or higher understanding. While Parvati is purifying water, Shiva is transforming fire.

The valley may appear idyllic, but it holds a dark past. Over the past 25 years, according to both official and unofficial reports, at least two dozen foreign tourists have died or disappeared in and around the Parvati Valley. Among the vanished are people from Canada, Israel, Japan, Italy, Czech Republic, Russia, Netherlands, Switzerland, and Australia. Distraught loved ones post stories of the missing on social media, online message boards, and travel forums with scattered details and few clues.

Many cases reek of foul play. In 1996, Ian Mogford of the UK disappeared in the Parvati Valley after reportedly telling his father over the phone that he had befriended a sadhu. "It is not beyond the realms of possibility that… for some reason my son got attacked and is lying on the bottom of a gorge," Mogford's father told the Telegraph. Others might have been targeted after being caught up in the lucrative drug trade, buying hash at the source and selling it to tourists. After Bruno Muschalik, a backpacker from Poland, went missing in the summer of 2015, his father maintained that local drug mafias were to blame. Some of the missing are presumed murdered; in 2000, a British man, his fiancée, and her teenage son were brutally attacked while camping above the Parvati Valley. Only the man survived. Most simply vanished without a trace in this one sliver of the subcontinent.

When a body does turn up, it is often pulled from the torrential churn of the Parvati River, which during the monsoon summer is capable of carrying a person downstream or consuming one in its undertow in a blink. But it is the dearth of bodies that turns the Parvati Valley into India's backpacker Bermuda Triangle.

In the rest of the country, hotel and guesthouse owners are required by law to log their patrons into an online database, but in the Parvati, the vast majority travel in and out without record. The isolation and lack of regulation only add to the draw. It's not difficult or unusual for foreigners to deliberately drop off the radar for the full duration of or even illegally beyond their travel visas. One Israeli man lived in the valley for decades, growing and dealing hash, getting married and having a child, until he was arrested for overstaying his visa.

With conditions ripe for vanishing without trace, a question arises: Did all of these travelers get lost or murdered in the wild, or did some not want to be found?
————————–
Well, it's neither so spiritual nor so mysterious as all that. It turns out that the Parvathi Valley is the Himalayan equivalent of Humboldt County, doing a booming trade in Charas, an exceptionally potent local version of hashish.
Bayside explains:
The Parvati Valley in Himachal Pradesh is an extraordinarily beautiful region, but most people know it more for its charas than its beauty. Even till a decade ago, the valley remained underground, somewhat surprisingly, and mostly saw foreign tourists, as Indian tourists preferred other destinations in the Himalayan state. But as awareness about cannabis (the source plant of charas) and its forms increased in India over the years, the Valley has seen more and more young Indians pour in. While that has definitely helped tourism in the Valley's villages, its environment, along with its reputation, has suffered a lot.

Charas is a black, sticky substance that is extracted from cannabis plants by continuously rubbing the plants, and it has been cultivated and used by the locals for decades. Lord Shiva is said to smoke it, which makes it a substance of immense religious importance in a region that is predominantly Hindu.

When foreigners, mostly backpackers, and hippies, first stumbled upon the valley and discovered the potent charas, they couldn't wait to take it back with them, as it had immense value in the west. More interestingly, the natives of the valley had little idea of the prices their products would fetch, as they kept selling it for extraordinarily low prices.

Thus started a drug trade that grows stronger with every passing year. The natives are now fully aware of their products' value in the international markets. As a result, thousands of acres of Himalayan lands, located in the upper reaches of the valley, remain full with cannabis plantations from April onwards. They are allowed to thrive and grow till September when the rubbing process begins, and the charas is extracted. It's hard work, but it definitely pays; to what extent, however?

Earnings may have skyrocketed for the locals in recent years thanks to the charas trade, but most people these days venture into the Valley in the only for charas, and they rarely want anything more.
Cultivators tend to object to Western tourists messing with their crops, and local badmashes may simply prefer to harvest Western currency from the pockets of Kumbaya-humming tourists instead of actually delivering any of the dope. Relieved of his money, camera, and smart phone and given a head-start in the direction of his next incarnation, the naive Western tourist's remains can simply be tossed into the local river.