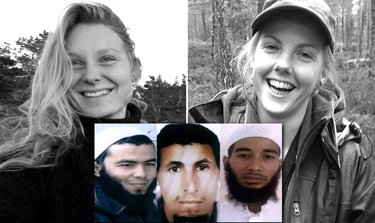 Louisa Vesterager Jespersen, 24, from Denmark, and Maren Ueland, 28, from Norway, were brutally murdered by Muslim fanatics while camping in the Atlas mountains.
Their killers posted a video of the decapitation of one of these young ladies on Facebook. (Take my word for it. You really do not want to see it. link) One girl had been slowly decapitated. The other only had her throat cut. It appears that they had previously been raped.
Dr. Bastiat, at Ricochet, marveled once again at the naive optimism of members of the Trans-Atlantic contemporary community of fashion.
Fox News has a story about two Scandinavian women in their mid 20s who went hiking in Morocco and were killed at their campsite. One was decapitated, one was nearly decapitated. I don't understand stories like this. Have these young women never heard of Islam? Modern western societies are fanatics about safety, even putting bicycle helmets on their kids to ride around their own yard. But then they take insane risks because of … well, I'm not sure what.

I'm a fairly experienced traveler in somewhat risky places, but I would never consider taking risks like this. They go to a Muslim country, take pictures like the one above, and presume they will be safe. I just don't understand why these women thought they could do this.

This was not a tragedy. This was murder. The real tragedy was that it is so predictable, so routine, that it wouldn't even be a news story if they weren't young and beautiful. I'm not being unsympathetic. Quite the opposite. But this rosy view of reality, despite all evidence to the contrary, is remarkable. And remarkably common. And remarkably dangerous.