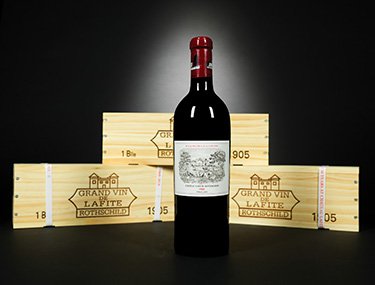 Elin McCoy, of Bloomberg, reports on her six-course dinner with lots of vintages tasted at Chateau Lafte-Rothschild.
The intimacy of the evening was reflected in the cuisine familiale menu. We took our seats and soupe VGE arrived—individual tureens filled with delicate broth, winter vegetable, and truffles covered in puff pastry—the first of six courses. To accompany it, Eric picked an intense, truffle-scented 2005 Château L'Evangile from the Rothschilds' Pomerol estate. Also poured was a smooth, seductive, and rich 1989 Château Duhart-Milon, the neighboring fourth growth that the family purchased in 1962; it was astonishing how well it aged. If anything at the upcoming auction could be considered a bargain, this is it, with an estimate of $1,000 to $1,500 for a case of 12 bottles.

The main course was a simple boeuf a la ficelle—beef filet with a tangy, minty green sauce, surrounded by tender leeks, scallions, carrots, and turnips—and with it, Lafites from both 1989 (estimate: $4,000 to $6,000 for 6 bottles) and 1959 (estimate: $3,000 to $4,600 for one bottle). The former was gulp-able and voluptuous, with layers of spice, cassis, and cedar. And the latter? Deep-colored and concentrated, with notes of mint, cedar, truffle, and tobacco, the 1959 is the greatest Lafite I have ever drunk; the epitome of harmony and velvety elegance. This is its moment, but it seems like it could live on this plateau for decades. Wais Jalali, the CEO and Chairman of private equity firm Cerebrus LLC and whose cellar includes 48,000 bottles, declared it "the wine of the night."

Cheese appeared, and with it came the biggest surprise of the evening: the delicate 1905 Lafite (estimate: $3,000 to $4,800 for one bottle). At 114 years, it showed the kind of longevity Lafite is known for, demonstrating why perfect storage conditions are so important when buying old wines. With its silky texture, ethereal scents of plums and currants, and a long finish, it suggested to me a long-ago world.

The meal ended with a creamy lemon mousse, paired with an apricot-scented, opulent 1989 Château Rieussec, which unfortunately will not be available at the upcoming auction.

Afterward, we settled into the small, cozy, adjoining salon, where several guests puffed on Cuban cigars and we sipped an old Mirabelle and Lafite's private label of Tres Vieille Reserve Cognac. I reflected on the pleasure of decades-old wines.

"Every wine has its moment, but you have to choose the right moment," the baron had explained on the cellar tour. Each of the wines poured demonstrated that perfectly. Most of these vintages are available in the upcoming auction, but only the single bottle of 1868 (estimate: $13,000 to $20,000) includes dinner at the château. I'd happily pay that much for dinner alone.
It's a rough life being a wine journalist, but Elin is clearly bearing up bravely.
HT: Bird Dog.