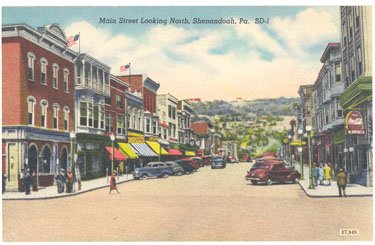 Vanderleun has some elegies to the American small town so many of us grew up in.
RAY: I was born in the late fifties into the same small Kansas town where my mother and father grew up.

My grandparents all lived in that same town. Everyone was basically German, with a smattering of other northern European ethnicities thrown into the mix. The Main Street had everything anyone could possibly need to buy, from groceries to hardware. There were several Protestant churches that were always packed on Sundays, and one Catholic church on the edge of town, as well. There was no crime to speak of… we had one policeman, who spent most of his time bringing groceries to shut-ins. (He was a friend of my father's, and my dad would joke about it.) We kids (and there were tons of us!) were outside from sun up to sun down, playing and fishing and riding bikes and building things. Every family had a garden out back, and sometimes a small orchard, and some folks raised a steer for winter beef, or kept chickens. That was in town! Every holiday was an opportunity for everyone in the family to get together and have some fun and good food. It was a warm, safe, sunny, idyllic way to grow up.

That all began to change in the seventies. People became much more materialistic, thanks in part to Mom taking a job outside the home and having all that extra cash. The new color television encouraged people to buy buy buy. Parents began divorcing and all my friends' families disintegrated. People began staying inside from sun up to sun down. Where were all the kids? Inside, playing those new video games! The gardens went to weeds.The first black family moved into town. Hey, where's my bike?

After college, I moved to another state for a job. When I returned home for a funeral last summer, I didn't recognize the place. It was like that scene from "It's a Wonderful Life," when George Bailey gets to see what his small town was like without him in it. The streets had all been widened, there were cars everywhere, and the town had become mile after mile of shopping and fast food joints. Main Street was dead and boarded up. There was a new GIGANTIC shopping Mall, though. It had been built on top of the land where my grandparents' farm had been.

I sat at a table outside of one of the Mall's restaurants, sipping a coffee and watching the people as they came and went. Most were fat, poorly dressed, and had a generally unhealthy appearance. They all looked so sad and stressed.

I thought of that YouTube video "Never Forget," showing archival footage of daily life in a small town in South Dakota in 1938. A town filled with happy, healthy, well-dressed people. My home town used to be that way, too.

But now it is gone. The modern way of life is a curse, for sure.

———————–

DETER NATURALIST: We grew up in the same town, or nearby.

Your reference to Pottersville (It's a Wonderful Life without George Bailey) is razor-sharp. My "home town" grew 800% since the mid-1960s and now looks like it's the back-lot where every single TV commercial is now filmed. In my old neighborhood literally every eighth 1950's vintage house has been torn down, replaced by a "mansion" whose walls extend to the utility easements.

I remember climbing a fire escape on a downtown building with Jr. HS classmates and watching a parade from the roof. Imagine trying that now.

I remember buying rocket engines and cannon fuse with cash at the downtown hobby store (rode there on my bike) at 11 or 12 years of age. Imagine trying that now. We launched rockets at an open field near a grade school and a college. No one bothered us. When I tried to launch rockets at a county-owned field with my kids 15 years ago we got hounded by a deputy sheriff.

When I was a kid my home town had TWO stoplights. When I moved out 30 years ago it took literally 45 minutes of stop-and-go to drive from a house on the south edge of town to the north edge of town on a Saturday morning. How many "new Americans" have joined us since then?

An ice age cometh.
And he links the more hard-line Alt Right perspective of Chateau Heartiste.
—————-
I find it amazing sitting here, aged 70, looking back, and realizing that the whole entire active, complicated, functioning-in-a-lot-of-ways-better-than-today's-America small town world I knew as a boy is as dead as Nineveh and Tyre. Who could have imagined this would happen?
When I was young, my small town was already a provincial relic, home to an industry in its final death stages. The coal was below the water table and post-WWII environmental regs stopped them from pumping out the water anymore.
A lot of people had already left to find work in the modern, economically thriving America of cities and suburbs, but a lot of people, too, clung to home and church and family, and their small town middle class status. Moving to the city involved an instant demotion to the bottom rung on the social and economic ladder. Moving to the city also involved the loss of ready access to the out-of-doors, and hunting and fishing were like religion to people like us. Families were close. Everyone showed up for weddings and funerals, and you were in touch with grandparents and aunts and uncles all the time. People who moved away lost all that.
But alternatives to moving away ended with my parents' generation. I and my contemporaries grew up feeling confined by the narrow intellectual horizons and thoroughly conscious of the lack of opportunities of small town life. We were eager to get out and take on the great big outside world. Only losers and criminals stayed behind.
A lot of this had to do with the vast 20th Century growth in personal and social mobility. I had an uncle, born in 1910, who was an all-around able and intelligent man, with natural dignity and a sense of style. He had to leave school after third grade and go to work. He was stuck as a coal miner all his life. If he'd been born 40 years later, he'd have taken standardized tests and scored well, and elite colleges would have been recruiting him.
In the old days, a small town was full of able and talented people. After WWII, social mobility dispersed all the competent younger people to the four winds, leaving behind the hapless and unlucky.
Nobody today, not even the hapless and unlucky, is willing to work hard to make a small living. The malls killed Main Street, and now Amazon is killing the malls. Costs and regulations have piled up, and starting a small business is much, much harder today. When I was a kid, there were barrooms and mom-and-pop little convenience stores on every block. The latter opened at 7 in the morning and closed at 10 or 11 every night. The kind of people living in today's small town cannot be bothered to do all that. They'd rather take relief. Personal character has dramatically decayed and our society is sclerotic with regulations and red-tape.
We've gained a lot with mobility and economic growth, but we have also lost so very, very much.
————————-