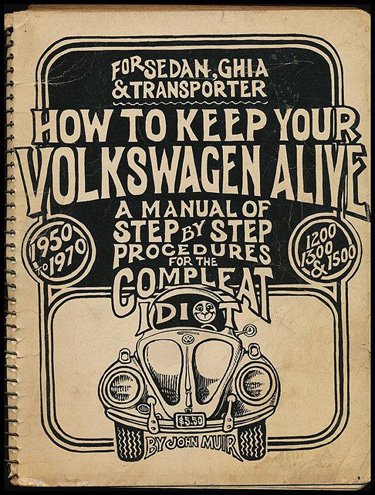 Prices will be going on on pre-emissions Beetles and people will be reprinting the old John Muir Fix-That-VW-Yourself Guide.
Our Corporate Overlords are rapidly developing driverless cars, and advanced thinkers are already talking about banning driving a car yourself altogether.
The New Yorker recently reported that a new group has been created specifically to defend the Freedom to Drive.
Safety has long been a central argument for the adoption of driverless cars. According to the National Highway Traffic Safety Administration, ninety-four per cent of serious crashes are due to human error, and some thirty-five thousand Americans die in traffic-related accidents each year. Autonomous-vehicle makers claim that, by seeing more and responding faster than human drivers can, their cars will save thousands of lives. According to this logic, not adopting autonomous-vehicle technology would be irresponsible—even unethical. "People may outlaw driving cars because it's too dangerous," Elon Musk said, at a technology conference, in 2015. ("To be clear, Tesla is strongly in favor of people being allowed to drive their cars and always will be," he elaborated later, on Twitter. "Hopefully, that is obvious. However, when self-driving cars become safer than human-driven cars, the public may outlaw the latter. Hopefully not.")

Perhaps it was inevitable that a nascent right-to-drive movement would spring up in America, where—as fervent gun-rights advocates and anti-vaccinators have shown—we seem intent on preserving freedom of choice even if it kills us. "People outside the United States look at it with bewilderment," Toby Walsh, an Australian artificial-intelligence researcher, told me. In his book "Machines That Think: The Future of Artificial Intelligence," from 2018, Walsh predicts that, by 2050, autonomous vehicles will be so safe that we won't be allowed to drive our own cars. Unlike Roy, he believes that we will neither notice nor care. In Walsh's view, a constitutional amendment protecting the right to drive would be as misguided as the Second Amendment. "We will look back on this time in fifty years and think it was the Wild West," he went on. "The only challenge is, how do we get to zero road deaths? We're only going to get there by removing the human."

[Meredith] Broussard [a former software developer who is now a professor of data journalism at New York University, and author of the recent book, "Artificial Unintelligence: How Computers Misunderstand the World"] has a term for the insistence that computers can do everything better than humans can: technochauvinism. "Most of the autonomous-vehicle manufacturers are technochauvinists," she said. "The big spike in distracted-driving traffic accidents and fatalities in the past several years has been from people texting and driving. The argument that the cars themselves are the problem is not really looking at the correct issue. We would be substantially safer if we put cell-phone-jamming devices in cars. And we already have that technology." Like Roy, she strongly disputes both the imminence and the safety of driverless technology. "There comes a point at which you have to divorce fantasy from reality, and the reality is that autonomous vehicles are two-ton killing machines. They do not work as well as advocates would have you believe."

Rather than create a constitutional amendment, Broussard argues that drivers should resist laws that would take away their existing rights. Although steering wheels are legally mandatory, the SELF DRIVE Act, which passed the House in 2017, would allow autonomous-vehicle companies to request exemptions from tens of thousands of other regulations. (The Act died in the Senate, but driverless-car companies are urging Congress to take it up again this year.) According to Broussard, the best way to protect the right to drive may be simply to defeat laws that would legalize autonomous vehicles. "We can challenge the notion that autonomous vehicles are inevitable," she said. "They are not even legal right now."
Those driverless cars will all be equipped with Internet connections telling the companies that built them and the government exactly where you are and allowing either to disable your vehicle at will. You will need Big Brother's permission to go anywhere.
Automobiles are already far too loaded with safety features; stripped of conveniences like spare tires, dip sticks, and vent windows; and calculatingly contrived to deny their owners the ability to make repairs themselves.
Our freedom of choice has been incrementally removed year by year. Next they will taking away our Freedom to Drive altogether.
Join the HDA: