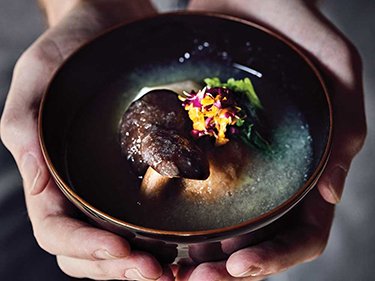 Shiitakes and lily bulbs cloaked in yuba (tofu skin) and served in a kombu broth.
Alex Halberstadt in Saveur:
Writing about the food of Japanese monks and nuns for a magazine like this one presented a conceptual difficulty. From the Buddhist perspective, cooking is a form of spiritual practice that produces nourishment to prepare the body for hard work and meditation. Unlike, say, Memphis barbecue or the cuisine of Lyonnaise bouchons, shojin doesn't have a whole lot to say on the subject of pleasure. Shojin has bigger fish to fry. Its goals are nothing less than permanent enlightenment, nirvana, the fundamental transformation of the human mind and society. It does not fit easily into the hedonistic, novelty-addled world of food journalism.

Before every other restaurant extolled the virtues of seasonal produce, there was shojin ryori, a Buddhist cuisine reimagined by monk chef Toshio Tanahashi.

I chanced upon my salvation, journalistically speaking, in the person of Toshio Tanahashi. He'd practiced the art of shojin as a Zen monk in a rural temple near Kyoto and then did something unprecedented—he opened a restaurant in Tokyo's chic Omotesando neighborhood that presented vegan monastic cuisine in a fine-dining context. The restaurant, Gesshin Kyo, became both successful and influential. Reviewing it for the New York Times, author and culinary authority Elizabeth Andoh described it as a "secular space imbued with a spiritual respect for food." It was a spiritual respect that nonetheless made room for distinctly un-Japanese elements like tomatoes, mangoes, and white bordeaux. Freed from temple kitchens and its role as nourishment, shojin dazzled Tanahashi's diners with its unfamiliar and subtle beauty. The Zen monk had become a famous chef by reimagining monk food.

Tanahashi closed Gesshin Kyo after 15 years, in 2006. Along the way he wrote two books about shojin ryori and came to see it as a corrective to the world's restaurant culture, which he believes to be addled with costly, scarce, and unhealthy ingredients. …

[S]hojin [is] world poised between the rigorous simplicity of spiritual practice and its often exquisite trappings. Consider the tools found in a shojin kitchen. On the day we met, Tanahashi brought me to Aritsugu, renowned as a shrine among the international brotherhood of knife fetishists. The family-owned shop has been in continuous operation since 1560 and once supplied swords to the Imperial House of Japan.

At the modern-day shop in Kyoto's enclosed Nishiki Market, we shimmied past vitrines of eye-wateringly expensive sashimi blades to a back room, where a soft-spoken manager showed us the principal tools of the shojin chef. There was an adorably petite vegetable cleaver called a nakiri-bocho; a one-sided grater of tinned copper trimmed in magnolia wood and deer antler used for working with lotus root and wasabi; and a strainer-ricer made of the braided hairs of a horse's tail bound with a band of cherry bark. These utensils, made by hand, were remarkably beautiful.

"Things that are made by humans for humans are good for the spirit," Tanahashi declared. He explained that shojin kitchens forbid plastic and machinery. Taking care of one's tools, he added, turning the cleaver in his hand, was in itself a form of Buddhist meditation.

Over the next several days, Tanahashi led me on a breakneck tour of shojin—not the grand theory behind it, but the myriad building blocks. He referred to it as my "education." At an antique lacquerware shop called Uruwashiya, behind one of those dimly lit Kyoto storefronts that always look closed, Akemi Horiuchi, the elegant proprietor, showed us the most important dishes used in serving shojin—several attractively worn red bowls and a matching tray. Red is the auspicious color of the temples, she explained, and the tray's raised edge indicates that it encloses a sacred space. Shojin must be served in handmade vessels, and few are as painstakingly handmade as these—delicately carved wood covered with layer upon layer of urushi lacquer, making the dishes supple, lightweight, and resilient. The lacquer on the bowls Horiuchi showed us had faded in places—a prized quality, she said—because they were made nearly 500 years ago, in Sen no Rikyu's lifetime.