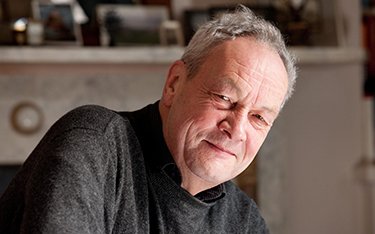 Richard J. Evans, in The Guardian, really unloaded on the conservative historian Norman Stone in an obituary.
was character assassination. As a judge of the Fraenkel prize in contemporary history some years ago, he told the astonished members of the jury that they should not award the prize to a historian of Germany whose politics he disliked because she was an East German agent – an allegation that was enough to rule her out of contention even though it was absolutely baseless and undoubtedly defamatory.

Shortly after the death in 1982 of his patron and mentor in Cambridge, EH Carr, the author of a multivolume History of Soviet Russia and influential works on historiography and international relations, Stone published a lengthy assault on his reputation, which included lurid details of his three marriages. When a colleague criticised this "outrageous" diatribe to his face, telling him that Carr "always said you were amoral", Stone responded: "And he always said you were a bore" (probably an invention, though one cannot know for sure).

At a time when malice and rudeness were highly prized by some rightwing Cambridge dons, Stone outdid them all in the abuse he hurled at anyone he disapproved of, including feminists ("rancid"), Oxford dons ("a dreadful collection of deadbeats, dead wood and has-beens"), students ("smelly and inattentive"), David Cameron and John Major ("transitional nobodies"), Edward Heath ("a flabby-faced coward") and many more.

Stone was undoubtedly clever. He could write entertainingly and could summarise complex historical circumstances in a few pregnant sentences, gifts which brought him a flourishing career as a journalist and commentator. He was a talented linguist who read and spoke more than half a dozen languages, including Hungarian. Yet his career was also dogged by character flaws that prevented him from fulfilling his early promise as a historian. …


As a teacher Stone could be inspiring, often winning over his pupils with his charm, which on occasion could be quite considerable, but he became increasingly undisciplined, neglecting his duties, and spending increasing amounts of time playing poker and drinking himself into oblivion in Soho.

The Cambridge University history faculty became impatient with his behaviour, but solved the problem of how to deal with him by encouraging him to apply for the professorship of modern history at Oxford, to which he was appointed in 1985 thanks largely to political support from rightwing Oxford dons reinforced by a laudatory reference from Sir Geoffrey Elton, the regius professor at Cambridge.

Stone hated Oxford, which he thought (bizarrely) was full of Marxists and out of touch with the real world. He lambasted the university on a regular basis in his newspaper column while continuing to draw his salary (a sum he frequently dismissed as too miserly to keep him in the style to which he had become accustomed), and excoriating it for refusing an honorary degree to Margaret Thatcher because of the cuts she had imposed on universities ("Why should we feed the hand that bites us?" one don memorably asked).

On the occasions when he did appear in Oxford to do some teaching, Stone became notorious for groping his female students (one of whom is said to have responded with a slap across the face), and annoyed Worcester College by sub-letting his rooms to make a bit of extra money. In 1997 the university finally grasped the nettle and arranged for his departure, though under financial terms that forced it to delay filling his chair until 2006, the year when he would have reached the statutory age of retirement.

Long before this, he had espoused a variety of rightwing political causes, advocating Britain's departure from the EU, defending the Chilean dictator Augusto Pinochet and supporting Croatia in the Balkan wars. He did some speechwriting for Thatcher and advised her on foreign policy, though she did not listen to his assurances that the reunification of Germany in 1990 was not a danger to European peace. On one occasion he collapsed in front of her, drunk; but she was well known for her indulgence towards alcoholics so long as they supported her politically.

After Oxford, he found a berth in Turkey, where he occupied positions at Bilkent and other universities, resigning from one in Ankara because the authorities tried to stop him drinking.

He devoted some of his remaining energies to the denial of the genocide of Armenians by Turkey in the first world war, but they were fading rapidly, and his last books – short histories of the two world wars (2007 and 2013) and The Atlantic and Its Enemies: A Personal History of the Cold War (2010) – did no justice to his real abilities, mixing worn-out historical clichés with random statements of his own personal views.

His last post was at the Danube Institute, Budapest, and his last book, Hungary: A Short History (2018) praised the country's authoritarian leader Viktor Orbán among other things for his tough line on immigration.

Knowing that he did little research, never bothered to check his facts and relied on his literary flair to mask his mistakes, the publishers got serious historians to go through the text: one of them sent in a 20-page list of errors, but it was impossible to spot them all and so it was left to reviewers to point out the many further inaccuracies.

There is nothing wrong with historians being provocative so long as their provocations stimulate one to think again about the subjects they deal with. … But Stone's provocations were little more than the voicing of his own personal political prejudices, and so had little or no effect on the way we think about the past.

Journalists often described him as "one of Britain's leading historians", but in truth he was nothing of the kind, as any serious member of the profession will tell you. The former prime minister, Heath, was wrong about many things, but he was surely right when he said of Stone during his time in Oxford: "Many parents of Oxford students must be both horrified and disgusted that the higher education of our children should rest in the hands of such a man."
Had Stone been a left-winger, his popular books would have been viewed as valuable contributions, and his latter-day career as media don would have been seen as one more praiseworthy achievement.
———————
The Telegraph (not surprisingly) was slightly kinder.
(quoted in full due to Paywall)
Norman Stone, the former Professor of Modern History at Oxford, who has died aged 78, was probably the most prolific of the media dons who rose to prominence in the 1980s, and certainly the most notorious.

To some Stone was an outstandingly brilliant and generous historian, linguist, teacher and family man. To others he was a self-opinionated, reactionary loudmouth who despised and abused his students ("smelly and inattentive"), fellow academics ("a dreadful collection of dead beats, dead wood and has-beens"), homosexuality ("a deviation"), feminists ("rancid females who feel they have not advanced in this world and see it as some sort of conspiracy against women") and women in general, with the exception of Margaret Thatcher ("Anyone who took on Arthur Scargill and Galtieri, 364 economists and the Liberal Party must be a good thing.").

Sir Edward Heath once said of Stone that "Many parents of Oxford students must be both horrified and disgusted that the higher education of our children should rest in the hands of such a man," to which Stone retorted: "Everything good about Britain is due to Lady Thatcher. Everything bad is the fault of Edward Heath."

The one point on which both admirers and detractors agreed was that he was rather too fond of alcoholic refreshment. Once he passed out at the feet of Lady Thatcher, who charitably accepted his explanation that his sudden loss of consciousness was due to nothing more intoxicating than jet lag.

Stone made his name as an historian with his first book, The Eastern Front, 1914-1917 (1975), in which he challenged the conventional view that the defeat of the Russian army in the First World War was the result of a shortage of munitions, and argued instead that the fault lay with incompetent Russian commanders.

The book won Stone glowing reviews and the 1976 Wolfson Prize for history. He followed it with a short biography of Hitler, and in 1984, at the tender age of 43, took up his post as Professor of Modern History at Oxford.

At a time when Communism was crumbling, Stone's trenchant views and knowledge of the workings of Russia and Central Europe earned him a second career as a media pundit. Before long, his facility with words and his liking for a pithy turn of phrase led editors to invite him to comment on matters outside his academic field.

A brilliant forensic diatribe about a series of recent films made by Left-leaning directors such as Derek Jarman sealed his reputation as a controversialist, and he went on to opine on a huge range of issues, spicing up his invective with analogies to the Austro-Hungarian empire and quotations from Proust, Orwell and Goethe.

In 1997, however, Stone pulled off the greatest surprise of his life when he announced that he was throwing in his Oxford chair for a post as Professor of International Relations at Bilkent University, an obscure, privately funded establishment outside Ankara in Turkey. To this day it is not entirely clear whether he jumped or was pushed.

Norman Stone was born in the Kelvinside district of Glasgow on March 8 1941. Just over a year later, his father, a pilot who had fought in the Battle of Britain, was killed while training with the RAF.

Norman was brought up by his mother, a fiercely independent woman who sent him to the Glasgow Academy with the aid of a bursary from his father's old squadron.

Extremely bright, and with a talent for languages ("I was the Nijinsky of French vocabulary"), Stone arrived at Gonville and Caius College, Cambridge, in the late 1950s to read History. After graduating he began to specialise in the affairs of Central and Eastern Europe and Russia, travelling widely behind the Iron Curtain.

In 1964 he spent three months in a Czechoslovakian jail after being arrested for trying to smuggle a young woman to the West in the trunk of his car. He passed the time adding Czech to the seven languages he already spoke fluently.

To begin with Stone trod the traditional academic career path and by 1979 was established as a Fellow of Trinity under the patronage of the historian, E H Carr. His lectures were always packed and his books on Hitler, and a volume in the Fontana History of Europe series on the period between 1878 and 1919, cemented his academic reputation.

But there was always a more exotic undercurrent to Stone's CV. On his travels in Europe in the 1960s, he had met a beautiful Haitian, Nicole Aubrey, the daughter of Papa Doc Duvalier's finance minister.

They married in 1966 after she became pregnant and he spent some time living with his new wife and in-laws in Port-au-Prince, listening to voodoo drums and the gunfire of Tonton Macoute execution squads. Before dissolving in acrimony in 1977, the marriage produced two sons.

The strains of his private life and his liking for booze had an effect on Stone's academic work. There were mutterings about lectures being cancelled at short notice and his unconventional approach to his teaching duties.

"I tried to be conscientious if students weren't clever," he claimed, "but if they were good I thought, 'Let's put on Schumann and have fun nattering over a bottle.' "

At the end of one academic year, late as usual with his supervision reports, he went down the list of his students, writing the words "weedy", "quite weedy" or "very weedy" beside each name until he got to his protégé, the historian Andrew Roberts, against whose name he wrote "Thank God for England."

In 1978 Trinity admitted female undergraduates and Stone, now separated from his wife, took it upon himself to get to know some of them on a personal basis. "We hated each other on sight," one recalled. "He asked how often was he going to read the same second-term essay on Mussolini. I asked how often was he going to set it. He has this belief that women will never understand eastern Europe. We ended up having an affair."

For some, the last straw was a vicious attack on EH Carr published after Carr's death in 1983. Though some thought the Marxist Carr richly deserved a savaging, Carr had been Stone's mentor, and many thought Stone's diatribe betrayed rank ingratitude. "That was an outrageous thing to do," one of Stone's Trinity colleagues is said to have complained; "but then, Carr always said you were amoral." An unrepentant Stone replied: "And he always said you were a bore."

There was some relief at Cambridge when Stone got the chair at Oxford – and little surprise at subsequent reports that Oxford felt they had been "sold a pup". Some were inclined to blame the Cambridge Tudor historian Sir Geoffrey Elton, who had promoted Stone's candidature, though it is not clear whether Elton's motives were as Machiavellian as was supposed or whether he was simply ignorant of Stone's reputation.

Stone was as unhappy with Oxford as Oxford was with Stone, despising his colleagues , contemptuous of academic bureaucracy, outraged that he could not smoke in or borrow books from the Bodleian, and scornful of his "pitiful" professorial salary ("I could have earned more playing poker").

When Oxford refused Margaret Thatcher an honorary degree, Stone was loud in his admiration for the lady and later compounded the felony by becoming a trustee of her foundation. Merton JCR posted a complaint about "the derogatory, narrow-minded and misogynist views of the university's Professor of Modern History".

In 1991 the Oxford Students Union passed a motion condemning him as a "racist, sexist homophobe" for an article in which he had opposed the legalisation of homosexual marriage.

None of this might have mattered too much if Stone's academic work had remained unimpaired. But by the time he arrived at Oxford he had embarked on his second career as a fantastically prolific media don.

When several articles by him appeared in different newspapers on the same day, The Guardian wondered aloud whether "Norman Stone" was not really an academic conglomerate. But his colleagues noted a widening gap between his scholarly work and his journalistic output.

Stone always claimed to have left Oxford of his own volition, having been offered the job at Bilkent by the rector of the university over a glass or two of raki.

"I suppose I could have stayed on [at Oxford] for another 12 or 13 years," he told an interviewer, "but I have been offered something which is just bloody interesting. When you look around Europe it is like a Legoland presided over by jerks like Edward Heath. But Turkey is very much an up-and-coming country."

Stone also taught at Koc University and Bogazici University in Istanbul. He was a board member of the Centre for Eurasian Studies, an organisation founded in 2009 to deny the Armenian genocide; in 2004 he had engaged in an acrimonious exchange of letters on the subject in the Times Literary Supplement with the academic and poet Peter Balakian, whom he advised to "stick to the poems".

In later years, Stone was also a guest lecturer at the Danube Institute think tank in Budapest, and earlier this year he published Hungary: A Short History. His other publications included Czechoslovakia: Crossroads and Crises, 1918-88 (joint editor, 1989), The Times Atlas of World History (1989), The Other Russia (1990, with Michael Glenny), World War One: A Short History (2007), World War Two: A Short History (2013) and several books about Turkey.

Norman Stone married, secondly, in 1982, Christine Booker, who predeceased him in 2016. He is survived by their son and the two sons of his first marriage.