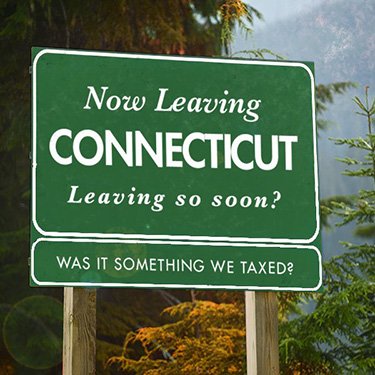 We left the 1712 5000+ sq. ft. house we lived in most of our adult lives. Local real estate taxes, over 20 years, went from $2000-a-year to $10,000, and the CT economy went into the tank. Nobody retires in Connecticut with the taxes being what they are.
Terry Kirkpatrick tells us that there is now a "People who have left or are leaving Connecticut" Facebook group and reports on the "CT Death Watch."
Buy U-Haul stock. Connecticut residents are growing pessimistic about the state's living conditions, according to a survey. A record percent of respondents (47 percent) also said they will likely leave the state within the next five years.

Even in banks? Connecticut to help 10,000 felons get a job in three years.

We like illegals. Gov. Ned Lamont is directing police in Connecticut to not cooperate with raids by Immigration and Customs Enforcement.

Glad to help out. While Connecticut lawmakers sold the progressive tax as a way to provide middle-class tax relief and reduce property taxes, neither occurred. Instead, everyday taxpayers have been hit with recurring income and property tax hikes.

Tax those movies. Governor Lamont's budget seems designed to accelerate the decline. It increases spending by $2 billion while extending the state's 6.35% sales tax to everything from digital movies to laundry drop-off services to "safety apparel." It adds $50 million in taxes on small businesses, raises the minimum wage by 50%, and provides the country's most generous mandated paid family medical leave.