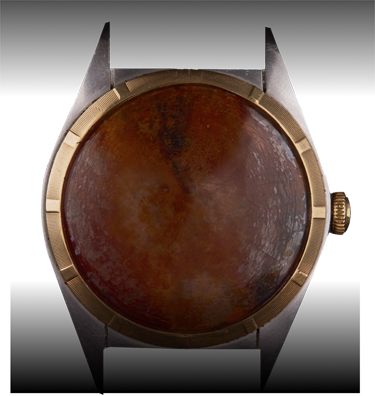 Hodinkee unravels the tale of a rusted Rolex watch once worn by one of the brave men symbolized by a star on the CIA's Memorial Wall.
It was barely recognizable as a watch when it first came to me. The case shape gave it away, but the dial and hands were hidden behind a rust-colored crystal. The caseback was deeply gouged with what looked like marks made by claws strong enough to scratch stainless steeI. You could tell it was a Rolex – its still bright gold bezel and crown, stamped "Rolex Oyster," gave that much away, but that was about it. The truth is, it could have been made by anyone, and it wouldn't have made any difference to its uncanny feel. With its heat-crazed crystal and dented case, the watch looked as if it had risen from the depths of hell – and as if it had come back from the afterlife with a story to tell.

The watch belongs to a man named Erik Kirzinger. It had been worn by his uncle, Norman Schwartz, who flew covert missions for the CIA during the Cold War. The watch bears the serial number 613482, dating it to approximately 1947. …

The time on pilot Norman Schwartz's Rolex read just before midnight. He had slowed to just above stall speed, and was flying as low as possible over the pitch black forests of northern China, north of the Korean border at the Yalu River.
On board his C-47 were CIA officers John T. Downey and Richard G. Fecteau. Their mission that night: pick up Li Chun Ying, a CIA agent.