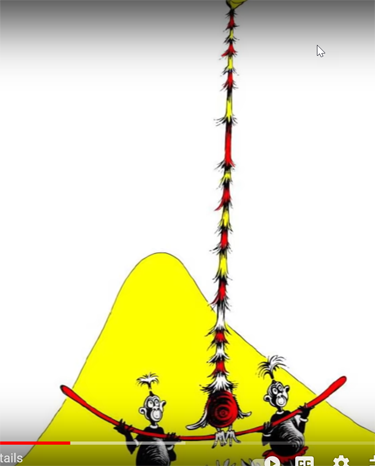 from "If I Ran the Zoo."
The NY Post has today's daily story of leftist ideological fanaticism.
The company that publishes Dr. Seuss' children's books said it will stop selling six of his titles because they contain racist and insensitive images.

Dr. Seuss Enterprises — the firm charged with preserving and protecting the beloved author's legacy — said it scrapped the books because they "portray people in ways that are hurtful and wrong."

"Ceasing sales of these books is only part of our commitment and our broader plan to ensure Dr. Seuss Enterprises' catalog represents and supports all communities and families," the company said in a statement Tuesday, which is also the author's birthday.

Dr. Seuss Enterprises said it decided last year to stop publishing and licensing the titles — which include "If I Ran the Zoo," "And to Think That I Saw It on Mulberry Street," "McElligot's Pool," "On Beyond Zebra!," "Scrambled Eggs Super!" and "The Cat's Quizzer" — after consulting with a panel of educators and other experts.

While Dr. Seuss — whose real name was Theodor Seuss Geisel — remains one of the world's most popular children's authors three decades after his death, his books have come under fire in recent years for how they portray black people, Asian people and other groups.

"If I Ran the Zoo," for instance, has been panned for depicting Africans as "potbellied" and "thick-lipped," as one biography of Seuss put it. It also describes Asian characters as "helpers who all wear their eyes at a slant" from "countries no one can spell," notes a 2019 paper on Geisel's work published in the journal Research on Diversity in Youth Literature.

And "Mulberry Street," the first children's book Geisel published under his pen name, contains a controversial illustration of an Asian man holding chopsticks and a bowl of rice whom the text called a "Chinaman who eats with sticks."

from "Mulberry Street."
It's too late to do anything about this international epidemic of insanity. It is apparent that, decades ago, badly-educated fanatics with their heads full of leftist egalitarian religiosity were permitted to take over the great bulk of petty educational institutions, and over the course of a generation, they successfully brain-washed the children irresponsibly committed into theirs hands.
Today, all those former little toddlers are the young adults operating as managers of media organizations, consumer product companies, and publishing houses, and they remain faithful Young Communists, seeing the whole world in terms of Colonialist Oppression, White Injustice, and Racialist Wickedness.
The mere sight of a whimsical cartoon referencing old-timey cultural stereotypes brings a tear to their eyes as they imagine humiliated and mortally offended representatives of groups sacred on the basis of their historical wrongs suffering afresh indignities.
These people have a bee in their bonnet that is driving them to regular outbursts of pure insanity. In the end, there is nothing more dangerous and destructive that a madman infected with delusions of absolute righteousness bent on punishing those he understands to be deliberately evil.