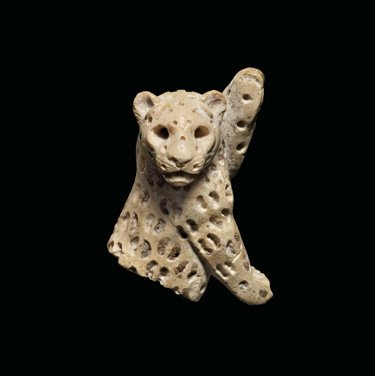 I receive a lot of email notices of auction sales. This morning an email circular from Christie's had this fragment of a leopard serving as the illustration at the top. I liked it enough that I decided to look, unlikely as the chance would be, just in case it might be selling for only a few hundred dollars. I thought Karen would enjoy owning it as a decorative bibelot.
Clicking on the image, though, only took me to a sanctimonious pledge about carbon neutral auctioneering. Pah!
So I decided to capture the image and give it a search.
And I found it, as you see below.
I must admit: I have expensive tastes.
———————————————–
Via Alain R. Truong:
Lot 33. A Mesopotamian inlaid limestone leopard, Late Uruk – Jemdet Nasr period, circa 3300-2900 B.C.; 2 ¼ in. (5.8 cm.) high. Estimate GBP 150,000 – GBP 250,000. Price realised GBP 212,500.
Provenance: Private collection, New York, 1960s.
with Mathias Komor, New York.
Leo Mildenberg (1913-2001) collection, Zurich, acquired from the above in the mid-1970s.
A Peaceable Kingdom: The Leo Mildenberg Collection of Ancient Animals; Christie's, London, 26-27 October 2004, lot 153.
Exhibited: The Cleveland Museum of Art, Animals in Ancient Art from the Leo Mildenberg Collection, 21 October-29 November 1981.
Munich, Prähistorische Staatssammlung; Mannheim, Reiss-Museum; Jerusalem, Bible Lands Museum; Bonn, Akademisches Kunstmuseum; Stendal, Winckelmann-Museum, Out of Noah's Ark: Animals in Ancient Art from the Leo Mildenberg Collection, 11 October 1996-28 June 1999.
Published: A. P. Kozloff, ed., Animals in Ancient Art from the Leo Mildenberg Collection, Cleveland, 1981, no. 2.
P. E. Mottahedeh (ed.), Out of Noah's Ark, Animals in Ancient Art from the Leo Mildenberg Collection, Bible Lands Museum, Jerusalem, 1997, no. 91.
Note: This Sumerian leopard with a 'beauty spot' (the remains of an 'Egyptian blue' inlay) on his cheek was affectionately named "Omar" by Mildenberg after the film star, Omar Sharif.
Only the upper section of the leopard is preserved, finely carved in the round in the heraldic rampant pose. While the body is shown in profile, the head is turned towards the viewer, snarling.
The mottling of the fur is rendered with a series of drilled holes, once inlaid with Egyptian blue (of which only one survives). The use of this typically Egyptian pigment is documented in Egypt from the Predynastic period, while contemporaneous similar-looking blue stones in Mesopotamia have been traditionally described as lapis lazuli. This single surviving inlay then represents one of the earliest appearances of Egyptian blue in the region.
According to Kozloff, the animal represented might be the Arabian leopard, now critically endangered and once found throughout the Arabian peninsula and the Sinai.
The use of coloured inlays to add detail to sculptures is well documented in Sumerian art. For a finely carved limestone bull showing drilled holes for now-lost inlays and also dated to the Jemdet Nasr Period, cf. Sumer. Assur. Babylone. Catalogue of the exhibition at the Musée du Petit Palais, 24 March – 14 June 1981, Paris, 1980, p. 38, no. 41.
Christie's. Antiquities, London, 3 July 2019