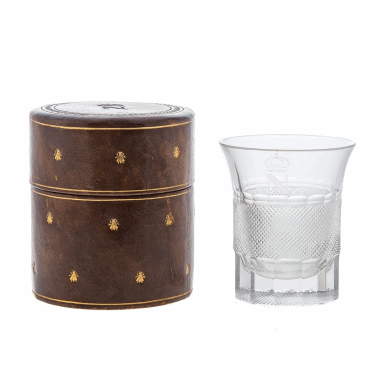 Sat, Jun 19, 2021 10:00 AM EDT
Alex Cooper Auctions
Lot 1500 Details
DESCRIPTION
Circa 1800-1810; cut and faceted crystal cup by Montcenis, with etched Napoleonic cypher, 3 3/4 in. H., 3 in. Diam. with brown fitted kid leather cylindrical case with gilt bees and cypher on lid, having green velvet interior, 4 1/4 in. H., 3 3/4 in. Diam. Consignor states was purchased by General John M. Schweizer Jr. USAAF, in German antique store in 1953, and authenticated by the Louvre in 1956. Goblet is same as example on Napoleon.org website with slight size difference. Leather case is same as one displayed at Fondation Napoleon in October of 2018 and gobelet is very similar.
Sold for $3520 (with 28% Buyer Premium).
I did not win.