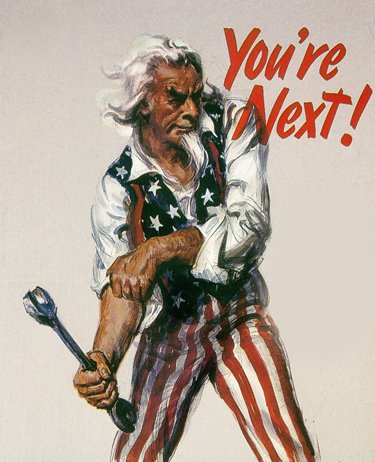 Robert Kagan has an excellent essay in Foreign Affairs defending America's World Policeman role and responsibilities.
[N]ow that Putin has made his mistakes, the question is whether the United States will continue to make its own mistakes or whether Americans will learn, once again, that it is better to contain aggressive autocracies early, before they have built up a head of steam and the price of stopping them rises. The challenge posed by Russia is neither unusual nor irrational. The rise and fall of nations is the warp and woof of international relations. National trajectories are changed by wars and the resulting establishment of new power structures, by shifts in the global economy that enrich some and impoverish others, and by beliefs and ideologies that lead people to prefer one power over another. If there is any blame to be cast on the United States for what is happening in Ukraine, it is not that Washington deliberately extended its influence in eastern Europe. It is that Washington failed to see that its influence had already increased and to anticipate that actors dissatisfied with the liberal order would look to overturn it.

For the 70-plus years since World War II, the United States has actively worked to keep revisionists at bay. But many Americans hoped that with the end of the Cold War, this task would be finished and that their country could become a "normal" nation with normal—which was to say, limited—global interests. But the global hegemon cannot tiptoe off the stage, as much as it might wish to. It especially cannot retreat when there are still major powers that, because of their history and sense of self, cannot give up old geopolitical ambitions—unless Americans are prepared to live in a world shaped and defined by those ambitions, as it was in the 1930s.

Americans are part of a never-ending power struggle, whether they wish to be or not.

The United States would be better served if it recognized both its position in the world and its true interest in preserving the liberal world order. In the case of Russia, this would have meant doing everything possible to integrate it into the liberal order politically and economically while deterring it from attempting to re-create its regional dominance by military means. The commitment to defend NATO allies was never meant to preclude helping others under attack in Europe, as the United States and its allies did in the case of the Balkans in the 1990s, and the United States and its allies could have resisted military efforts to control or seize land from Georgia and Ukraine. Imagine if the United States and the democratic world had responded in 2008 or 2014 as they have responded to Russia's latest use of force, when Putin's military was even weaker than it has proved to be now, even as they kept extending an outstretched hand in case Moscow wanted to grasp it. The United States ought to be following the same policy toward China: make clear that it is prepared to live with a China that seeks to fulfill its ambitions economically, politically, and culturally but that it will respond effectively to any Chinese military action against its neighbors.

It is true that acting firmly in 2008 or 2014 would have meant risking conflict. But Washington is risking conflict now; Russia's ambitions have created an inherently dangerous situation. It is better for the United States to risk confrontation with belligerent powers when they are in the early stages of ambition and expansion, not after they have already consolidated substantial gains. Russia may possess a fearful nuclear arsenal, but the risk of Moscow using it is not higher now than it would have been in 2008 or 2014, if the West had intervened then. And it has always been extraordinarily small: Putin was never going to obtain his objectives by destroying himself and his country, along with much of the rest of the world. If the United States and its allies—with their combined economic, political, and military power—had collectively resisted Russian expansionism from the beginning, Putin would have found himself constantly unable to invade neighboring countries.

Unfortunately, it is very difficult for democracies to take action to prevent a future crisis. The risks of acting now are always clear and often exaggerated, whereas distant threats are just that: distant and so hard to calculate. It always seems better to hope for the best rather than try to forestall the worst. This common conundrum becomes even more debilitating when Americans and their leaders remain blissfully unconscious of the fact that they are part of a never-ending power struggle, whether they wish to be or not.

But Americans should not lament the role they play in the world. The reason the United States has often found itself entangled in Europe, after all, is because what it offers is genuinely attractive to much of the world—and certainly better when compared with any realistic alternative. If Americans learn anything from Russia's brutalization of Ukraine, it should be that there really are worse things than U.S. hegemony.