16 Dec 2020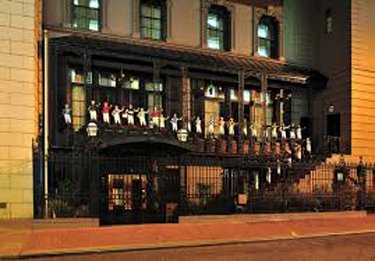 Growing up in a working class provincial small town, I lusted after sophistication, the high end Outside World, and the perqs and privileges of adulthood.
The post-WWII collapse of the Anthracite Mining industry devastated the economy of my native region of Pennsylvania, and my father was forced to buy a membership in the Steamfitters Union and work far from home on construction projects, where work existed, paying 10% of his paycheck for a "Syracuse book," i.e, permission to work in a different union local's territory. He typically worked all week in Westchester County, NY and came home for weekends.
During high school, I joined him, and worked construction as a plumber's helper. Outside work, I had in 9th Grade already adopted the habit of wearing a suit and tie every day. Part of it was simply an expression of my eagerness to be treated as an adult, but it was mostly to separate myself from the ordinary society of lunkheads and idiots my own age and to part company with my earlier reputation as a tough guy and street fighter. I was sick and tired of an endless series of strange kids showing up to challenge me to a fight in order to take over my reputation as top fighter, and one ridiculously dangerous incident woke me up and persuaded me that, sooner or later, somebody would get really hurt, that my current identity and life-style would get me arrested and sent to jail. I decided to make a clean break with all that and to devote my time instead to a reading program of self education.
You might think that a teenage kid going around in a suit-and-tie every day in a tough coal town would get a lot of crap, but my reputation, and in extremis, my ability to both take and to throw a punch were still there, and I only very rarely had any problems.
Apart from my personal reading program, I took advantage of access to NYC in summertime with cash from working in my pocket to make myself familiar with the big bright adult world. I attended jazz concerts at NYC clubs. I ate haute cuisine dinners, and drank French wine, at famous restaurants. I even stayed occasionally, with no actual necessity, overnight in grand hotels. Since I wore glasses and was wearing a suit and tie, my being an adult of drinking age was simply universally accepted, even when I was in early high school.
I did this kind of thing often enough that in a number of prominent NYC venues, the Oyster Bar, Toots Shor's, and 21, I was recognized by bartenders and presented upon entry with my personal drink.
This kind of thing can backfire. I was just beginning to explore the world of cocktails and was commonly ordering new ones I'd read of by name for the first time. Upon visiting the Oyster Bar, the world's most convenient watering hole for persons waiting for the next train, I ventured upon my first Pink Gin, made, you must understand, entirely of straight gin with a dash of Angostura bitters. Pink Gins are not a teenage kid's drink by any means. By comparison, a Dry Martini is like a Shirley Temple. Nonetheless, I gamely choked it down, tipped the elderly Chinese barman and left. Well, he remembered me, and the next time I stopped in, a large Pink Gin was in front of me in the proverbial NY minute. Every time I came in, I got a big greeting, a wide smile, and a great big straight up Pink Gin double. I was flattered by the recognition and I simply didn't have the heart to disappoint him by changing my drink. Over time, I got enough practice choking them down that I gradually acquired the taste.
All this reminiscing has been inspired by the very sad news that 21 is going to be closing down early next year. Like the long gone Toots Shor's, 21 has always been one of all mankind's little homes away from home, a Clean, Well-Lighted Place, where a warm welcome, a good meal, and a perfect Martini await.
As a teenage kid, I found 21 pretty darn expensive, but the management's knowing my name, the hearty greeting, and the general atmosphere struck me as actually worth the price of admission. At 21, you were a member of the family. I really don't know anywhere that made a better hamburger or mixed a better drink. NYC will just not be the same NYC without 21. What a sad, sad time we've lived to see!
Michael Kaplan, in the Post, writes:
With high-priced imbibing currently on hold at '21,' (the current owners) have done the sensible thing.

"We're suspending our lunch this year," said the author. Then his voice turned hopeful as he echoed a Christmas wish of many a New Yorker: "Maybe '21' will reopen in 2021 and we'll be there next Christmas."