17 Sep 2022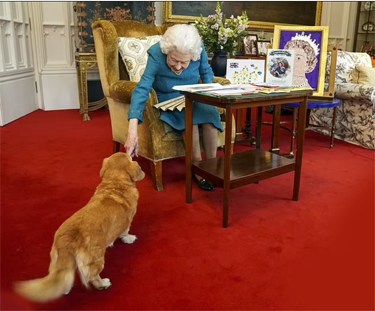 Queen Elizabeth with corgi earlier this year.
The Daily Mail has affectionate anecdotes about the Queen's last Summer and last days at Balmoral.
Shortly before arriving in Scotland she asked to be taken down to the mews at Windsor Castle where her stud groom Terry Pendry had continued to look after the horses, even though she was no longer riding them. …

She just wanted to see them, although when she was invited to sit on a pony she agreed. She was helped up into the saddle and then a groom suggested walking the horse around the indoor riding school. The Queen did four laps and it must have been the first time she had been on a leading rein since she learned to ride as a child.

During July's heatwave she asked for a sun-lounger to be put out for her in the garden at Windsor. At Balmoral, where the weather was less warm, she spent more time sleeping, often retiring for a nap after lunch.

Although frail, she remained alert and chatty almost until the end. The Moderator of the Church of Scotland, the Rt Rev Dr Iain Greenshields dined with her on Saturday and again on Sunday lunchtime. He spoke of her 'good spirits' and 'engaging' company. Dr Greenshields, who preached at Braemar and Crathie parish church where the Queen used to worship, said she was 'absolutely on the ball'.

'She was talking about her past, her love for Balmoral, her father, her mother, Prince Philip, horses, very much engaged with what was happening in the church and what was happening in the nation, too.'

He described how she took him to the window and she was 'looking over her gardens with great pride and affection'.
The sidebar links tell us that David Beckham stood 13 hours in the queue to view the Queen's casket, (like a true-born Englishman) declined a offer to jump to the head of the line from a Member of Parliament, and then was photographed wiping a tear from his eye at the coffin.