01 Jul 2018


Richard Caton Woodville, The Charge of the Light Brigade, 1895.
—————————-
25 October 1854, due to a misunderstood order, the Light Brigade of the British cavalry, consisting of the 4th and 13th Light Dragoons, the 17th Lancers, and the 8th and 11th Hussars, roughly 670 men, under the command of Major General James Brudenell, 7th Earl of Cardigan, advanced three-quarters of a mile under heavy fire from three sides assaulting a battery of Russian artillery and cutting down the gunners.
The British survivors then proceeded to cut their way through a mass of over 5000 Russian cavalry, dispersed them, and returned down the valley through the same gauntlet of fire.
The Light Brigade sustained 40 percent casualties, approximately 120 killed, and at least 160 wounded. Fifty were taken prisoner. Also killed were 375 horses. Every officer, but one, in the first line, was either killed or wounded.
—————————-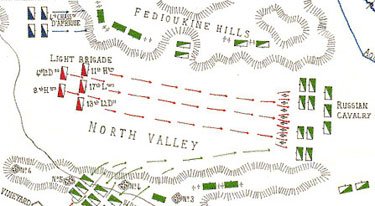 "It is magnificent, but it is not war. It is madness."
– French Marshal Pierre Bosquet,while observing the charge
——————————

Trumpeter Martin Leonard Lanfried (1834–1902), who was one of the buglers sounding the charge at Balaclava, with a bugle used at Waterloo (lent for the occasion by the First Life Guards) was recorded on August 2nd, 1890, sounding the same charge at Edison House, London.