20 Feb 2022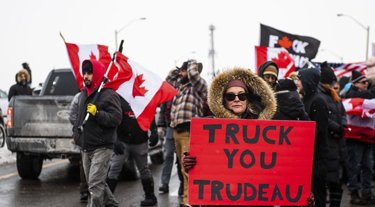 Red State reports, however, that not all Finance and Tech fell obediently into line.
[W]hile banks like the TD Bank crumbled like a cheap suit, bitcoin companies gave some great responses to requests from the government to adhere with the new orders under the Emergencies Act.

Bitcoin wallet company Nunchuk announced that they'd gotten a request to freeze accounts from the government, "Yesterday, the Ontario Superior Court of Justice sent us a Mareva Injunction, ordering us to freeze and disclose information about the assets involved in the #FreedomConvoy2022 movement." But Nunchuk explained to the clueless government that they don't hold any money like a custodial financial institution, they don't collect user information apart from emails, and they don't hold the keys to any of the wallets — that it's all private to the user, by design.

The Ontario Superior Court of Justice asked self-custody wallet provider @nunchuk_io to disclose user information and freeze user's bitcoin.

This was the team's response. pic.twitter.com/uyW9OWs1LS

— Pomp 🌪 (@APompliano) February 19, 2022

"Please look up how self custody and private keys work," the company chided the government. "When the Canadian dollar becomes worthless, we will be here to serve you too." Now, that's gold. They even learned a lesson from this experience with the government, and now will be making it even more private by not even holding the email information in future updates.

Speaking of which, we will add a non-email login option and make it a priority in our roadmap.

— nunchuk_io (@nunchuk_io) February 19, 2022

Edge wallet had an even more direct response to the fascistic request from the government.

In the wake of ongoing turmoil taking place in the Canadian capital of Ottawa, Deputy Prime Minister Chrystia Freeland has requested, via the Emergencies Act, that various financial services companies freeze accounts of those linked to protesters occupying the region, as well as those providing funding to the protests, but not present physically.

Regardless of whether the protests resonate with individuals or not, financial seizure is an unprecedented action that must be taken seriously. It's with great consideration that we would like to share our official response to the request that Canadian users' Edge accounts be frozen:

They finished with this meme.

pic.twitter.com/msERObyJF0

— Dr. Nickarama (@nickaramaOG) February 19, 2022

"And most importantly, we can't, even if we wanted to."

Nicely done.