26 Aug 2014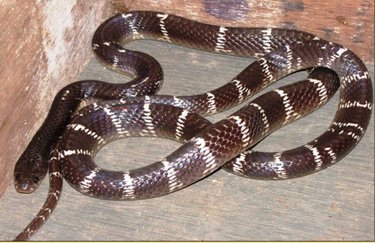 Blue krait, aka Common krait aka Indian krait (Bungarus caeruleus)
The Telegraph has a story of the tables being recently turned.
A man in central India killed a venomous snake by biting it after he saw the blue krait slithering towards him in bed.
Rai Singh, from Chhattisgarh, told a local television channel he feared the venomous blue krait was about to bite him and decided to bite the creature.

"At nine o'clock in the evening while I went to sleep on my bed, I saw a snake and tried to shoo it away with a stick but it attacked me. I bit it", he told a local television channel.

His neighbour R.S Singh described the incident as "astonishing" and said it was a "miracle that he survived since this snake is highly venomous".

Kraits are one of the four poisonous snakes which account for the most attacks in India where 50,000 people are killed by venomous bites every year.

The krait is nocturnal and often wriggles into homes at night during the monsoon season to keep dry. Its bites rarely cause pain and often go unnoticed by their victims as they sleep.

They are, however, highly venomous and up to 80 per cent of their victims die after suffering progressive paralysis.
Read the whole thing.