09 Feb 2021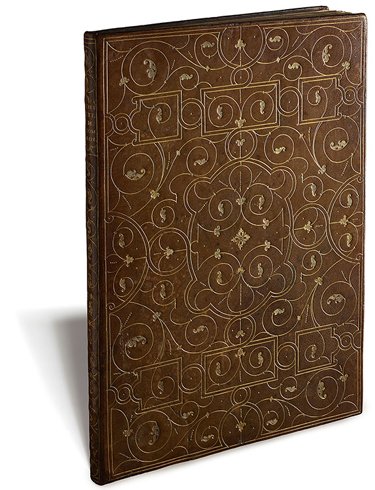 Jacopo Vignola (1507−1573), Regola delli cinque ordini d'architettura (Rules of the Five Orders of Architecture), [Rome: s.n., 1562–64]
The Morgan Library & Museum, Purchased in 1960; PML 51314.
Claude III de Laubespine commissioned the binding, executed in Paris circa 1567–68 by the Atelier au Vase. Morgan Library director Frederick Adams declared that this elegant example "sends a tingle of pleasure down the spine."
The Morgan Library in New York will be exhibiting through May 16th extraordinary bindings from the Laubespine-Villeroy Library.
Young, handsome, and highborn, Claude III de Laubespine lived in luxury after marrying an heiress and obtaining the favor of King Charles IX. His brilliant career at court was cut short in 1570, when he died at the age of 25. He left behind a splendid library, which was dispersed, and only recently have his books been identified and properly appreciated for their superb quality and fine bindings. Laubespine now ranks among the great collectors of the French Renaissance.

For the first time in more than 400 years, this exhibition brings together some of the most spectacular bindings in that collection, exquisite examples of Renaissance ornamental design. They will be shown along with related artwork and literary memorials of Laubespine. He left his books to his sister, a patron of the poet Pierre de Ronsard, who praised her country estate, the library, and its perfumed bindings, which, he said, "smells as good as your orange trees." This exhibition will evoke the sensual pleasure and literary connoisseurship implicit in a noble library of that era.
————————————