04 Mar 2021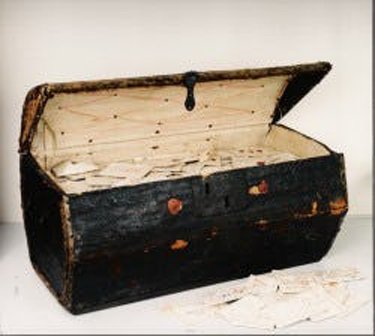 The Brienne trunk contained over 5000 undelivered letters.
Inverse.com reports that a new technology is being used to read undelivered and still sealed 17th century mail.
Simon and Marie de Brienne were the 17th century's most active postmaster and postmistress, delivering personal and political letters alike across Europe. But the Briennes also had a secret.

In addition to delivering letters, they stored away for thousands of "dead letters" — the typically discarded letters belonging to recipients who couldn't pay postage. Rediscovered in 1926, the Brienne's trunk is the final resting place of over 5,000 letters. Nearly half have never been opened for fear of destruction.

Now, using X-ray microtomography instead of a letter opener, a team of scientists has opened one of these letters for the very first time and demonstrated their pioneering new system on four letterpackets from Renaissance Europe.

Why it matters — This system gives scientists a powerful new tool for accessing the daily-lives of Renaissance people and for better understanding what the personal, professional, and political pressures of the day might have been like.

It also offers scientists an opportunity to explore one of history's ancient security measures, a "letterlock." This is an early, physical predecessor to today's modern cryptography.

"[W]e developed virtual unfolding to prove our letterlocking theories, and elucidate a historically vital — but long underappreciated — form of physical cryptography," write the authors."

The research was published Tuesday in the journal Nature Communications.

Here's the background — Long before the invention of email, or even bitter-tasting lickable envelopes, Renaissance correspondents had to think more creatively about the safety of their epistolatory works. One way that these letters were kept safe, write the authors, was through intricate, origami-like letterlocks.

"Before the proliferation of mass-produced envelopes in the 1830s, most letters were sent via letterlocking, the process of folding and securing writing [materials] to become their own envelopes," the authors explain.

"Letterlocking was an everyday activity for centuries, across cultures, borders, and social classes, and plays an integral role in the history of secrecy systems."

The authors write that in their study of 250,000 letterlocked messages (beyond the Brienne haul) from the "Renaissance world," they discovered a spectrum of security systems, ranging from simply sealed to booby-trapped letters with tamper-evident locking mechanisms to deter "man-in-the-middle" attacks.

In other words, a mechanism that would secretly signal to the recipient if others had snuck a peek at their secret writing.