08 Feb 2015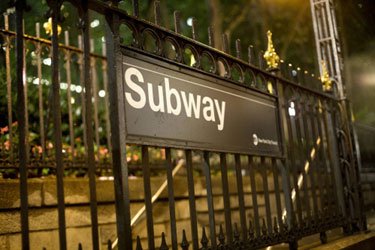 Cornell scientists spent 18 months collecting and identifying DNA samples collected on the trains and at 466 open stations in the New York City Transit System.
They found lots of bacteria, including those responsible for Anthrax and Tetanus.
Among the pathogenic and infectious bacteria, the Cornell researchers identified DNA related to strep infections at 66 stations and urinary tract infections at 192 stations. They found E. coli at 56 stations and other bacteria related to food poisoning at 215 stations.

A multidrug resistant bacterium called Stenotrophomonas maltophilia, associated with respiratory ailments and hospital infections, turned up at 409 stations. Another antibiotic resistant infectious microbe, called Acinetobacter baumannii, turned up at 220 stations.
..fragments of DNA associated with the bubonic plague were found at three stations in disparate parts of the city: on a garbage can at the 103rd Street station on the No. 6 line in Manhattan; a stairway railing at the 111th Street station of the A line in Queens; and another railing at the Winthrop Street station of the No. 2 and No. 5 lines in Brooklyn.
But you're perfectly safe, the WSJ reports:
We think the rats are the likely carrier [of the plague bacteria], since we see plenty of rat and mouse DNA," said Dr. Mason.

They also found a trace of anthrax DNA on a railing at one station and on a handhold in a subway car. "The results do not suggest that the plague or anthrax is prevalent, nor do they suggest that NYC residents are at risk," the researchers reported.

The New York City Department of Health and Mental Hygiene "strongly" disputed that the bacteria were correctly identified. "The interpretation of the results are flawed, and the researchers failed to offer alternative, much more plausible explanations for their findings," a department spokeswoman said in a written statement. "The NYC subway system is not a source of plague or anthrax disease, and the bacteria that cause these diseases do not occur naturally in this part of North America."
Data links here.
Hat tip to Glenn Reynolds.