31 May 2012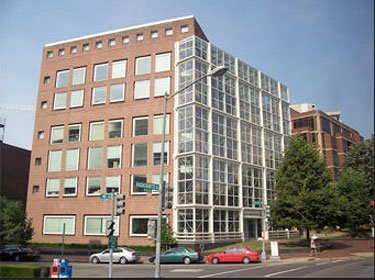 CATO's Massachusetts Avenue building in DC
I was reading this morning The Washingtonian's gossipy account of the ongoing Ed Crane-Koch Brothers struggle for control of Cato Institute. The saga was a predictable enough story revolving around the often-inevitable friction produced by the interaction of colorful personalities and over-sized egos.
"Why can't we all just get along?" I was wondering to myself until I came up to the part of the account describing what is usually spoken of as "the Koch Brothers' nefarious attempt to pack Cato's board with non-libertarians."
In December 2010, Charles Koch called the first meeting of Cato's shareholders since 1981. Cato now had four shareholders: Charles and David Koch, Ed Crane, and William Niskanen, Cato's aging chairman emeritus. The Kochs used their shares to appoint two new directors to Cato's board: Nancy Pfotenhauer and Kevin Gentry.

Crane and Niskanen were stunned. Pfotenhauer was a former spokesperson for Republican John McCain's presidential campaign. She had supported the Iraq War and the Army's "don't ask, don't tell" policy—positions that run counter to libertarian ideals. Kevin Gentry was vice chairman of the Virginia Republican Party and a top executive at the Charles Koch Foundation.

"Whatever they are, they are not libertarians," says Bob Levy, Cato's board chairman.
And, then I blew my top.
I have always considered myself a libertarian. Regular readers here will observe the appearance of regular postings indicating a strong sentimental attachment to Ayn Rand. I'm opposed to Big Government, most taxes and regulation, and all victimless crime laws. If it were up to me, we'd roll just about all of our ways of doing things right back to the point they were at before the Progressive Movement came along. In my ideal America, the federal government would occupy a campus the size of one of those affluent California high schools and you could buy heroin from vending machines with gold coins featuring images of Indians, mythical beings, and Big Game animals.
But, lo and behold, I find today that, according to Ed Crane and the merry band of liberaltarians at Cato, if you are not a peace creep/pacifist and a subscriber to the homosexual political movement's complete agenda, you have been re-defined, at some point in time when I wasn't paying attention, as "not a libertarian."
Well, Go, Koch Brothers! is all I have to say. The sooner control of so-called libertarian institutions is returned to libertarians who are still part of the Conservative Movement the better.
My own opinion is that the left-leaning soi disant libertarians who eagerly hasten to defend the supposed rights of terrorists and the cause of America's overseas enemies, the kind of libertarians who embrace the use of government for coercive social engineering, the kind of libertarians who prize moral latitudinarianism and egalitarianism above liberty represent essentially a kind of liberal fifth column, functioning most effectively in confusing the issues and dividing the opposition to statism and the Jacobin left.