14 Dec 2020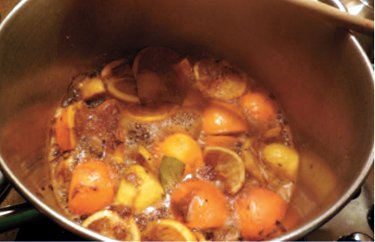 Anne Eubank, in Atlas Obscura, describes a seasonal favorite of my native Anthracite Coal Region: Boilo.
Winter's the time for toddies and eggnog, or any cocktail that combines fistfuls of spices with warm sweetness. But when it comes to sweetness, spice, and sheer boozy firepower, boilo has them all beat.

You can be forgiven for not knowing about boilo. Outside of Pennsylvania, this warm drink, sipped by the shot, is rarely seen, and its main ingredient, Four Queens whiskey, is practically impossible to source over the state border. But for many residents of Pennsylvania coal country, the drink is an indispensable winter treat that began as a favorite of the area's hardy miners. Today, it endures as a cold-weather cocktail and an unlikely soother of colds and the flu. However, due to its main ingredient, 101-proof whiskey, boilo needs to be treated with wary respect, whether drinking it by the glass or heating it on the stove.

Often stirred up for a Christmas party or a firefighter's fundraiser, the basic elements of boilo are sliced oranges and lemons, squeezed and cooked in water or ginger ale, along with pounds of honey, spices, and the occasional handful of raisins. The mixture is brought to a boil (one folk etymology claims that the name comes from "boil over," which is very easy for a foamy, sugary pot of honey and sugar water to do), and then the heat is lowered to let the spices and citrus peels infuse the brew. Only after the mixture is removed from the heat and strained is the whiskey added, since legends tell of boilo explosions from fire meeting a dribble of flammable Four Queens whiskey.

A riff on an Eastern European spirit, boilo is rooted deep in Pennsylvania coal country.
————————–
"Boilo" is essentially a literal translation of the Lithuanian virytas.
My own family's recipe goes roughly so:
2 quarts moonshine or inexpensive bar whiskey, rye preferred
4-6 oranges
4-6 lemons
1/2 cup of raisins
2-7 tablespoons sugar (to taste)
2 cups honey
13 herbs and spices: including 2-4 cinnamon sticks, vanilla beans, juniper berries, cardamom seeds, whiskey glass full of caraway seeds, whole nutmeg, whole allspice, whole cloves, peppercorns, bay leaves, saffron, candied ginger, and 1 cup hard candy
Peel oranges and lemons and cut into quarters. Squeeze the fruit into a pot, then throw in remaining fruit pulp. Add remaining ingredients. Cook everything at a slow simmer until the hard candy is melted, stirring constantly. Add whiskey and bring briefly to a rising boil. Add orange juice (some people use ginger ale) to restore any lost volume. Strain and serve hot in shot glasses.
We always used moonshine made in Locust Valley (my birthplace, a rural district in Ryan Township, Schuylkill County). You're supposed to fiddle with the precise quantities of ingredients to get the taste you prefer.
As always with punches, if you find it too harsh and strong, add more orange juice or ginger ale. If you find it too weak or too sweet, add more whiskey.
You drink it hot out of shot glasses. After about three of these, you'll find your knees are weak.