01 Feb 2016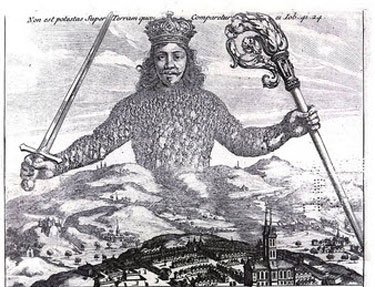 detail, frontispiece of Thomas Hobbes, Leviathan, 1651.
In Iowa today, we are beginning participation in ritual activities intended to persuade us that we are a free people electing our own government which governs with our assent. Jason Brennan, a professor at Georgetown, recently posted a short essay arguing that the degree of consent we actually have in a mass democracy is so limited as to be, in most real circumstances, practically non-existent.
In general, our relationship as individuals to our government doesn't look much like a consensual relationship.

If you don't vote or participate, your government will just impose rules, regulations, restrictions, benefits, and taxes upon you. Except in exceptional circumstances, the same outcome will occur regardless of how you vote or what policies you support. So, for instance, I voted for a particular candidate in 2012. But had I abstained or voted for a different candidate, the same candidate would have won anyways. This is not like a consensual transaction, in which I order a JVM and the dealer sends me the amp I ordered. Rather, this is more a like a nonconsensual transaction in which the dealer decides to make me buy an amp no matter whether I place an order or not, and no matter what I order.

If you actively dissent, the government makes you obey its rules anyways. For instance, you can't get out of marijuana criminalization laws by saying, "Just to be clear, I don't consent to those laws, or to your rule". This is unlike my relationship with my music gear dealer, where "no" means "no". For government, your "no" means "yes".

You have no reasonable way of opting out of government rule. Governments control all the habitable land, and most of us don't have the resources or even the legal permission to move elsewhere. Governments won't even let you move to Antarctica if you want to. At most, a privileged few of us can choose which government we live under, but the vast majority of us are stuck with whatever government we're born with. This is unlike buying an amp from Sweetwater.com, which, by the way, I highly recommend as a dealer.

Finally, governments require you to obey their rules, pay taxes, and the like, even when they don't do their part. The U.S. Supreme Court has repeatedly ruled that the government has no duty to protect individual citizens. Suppose you call the police to alert them that an intruder is in your house, but the police never bother dispatch someone to help you, and as a result the intruder shoots you. The government still requires you to pay taxes for the protection services it chose not to deploy on your behalf.

So, in summary, it looks like in general our relationship to our governments lacks any of the features that signify a consensual transaction.

None of this is to say that governments are unjust or illegitimate, or that we ought to be anarchists. There are other reasons to have governments. Nor is it to say that democracies are not in some way special. Democracies in fact do a much better job than alternative forms of government of responding to their concerns and interests of most of their members. But it's a stretch to say that democracy rests on the consent of the governed, or, more precisely, it's a stretch to say that you consent to democratic rule.
Read the whole thing.