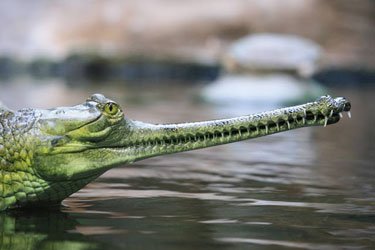 This strange looking creature, with its immensely long and delicate snout is the gharial (Gavialis gangeticus). Until very recently it thrived throughout the Indian sub-continent but now it numbers less than a few hundred in the wild. …

Once it flourished and could be found in all of the major rivers of India and Pakistan. The Indus, which has its source in Tibet and flows through Pakistan and Northern India had gharials along almost its entire length. Now, in this vast river not a single one may be found.

It is the same in many other major river systems. The list is depressingly long. The Irrawaddy in Myanmar holds none, neither does the Brahmaputra of Bhutan and Bangladesh – and this is not counting the many tributaries of these vast waterways. In fact the gharial can now be found in only 2% of its former territory.

These survivors from the age of the dinosaur need our help to survive – or it will be goodbye to them forever within a few decades. There are nine protected areas in India for the gharial. Eggs are often collected in the wild and raised in captivity. …

Over 3,000 young gharial have been released under these operations. Even so, it is thought that at most there are only around 400 breeding pairs in the wild. …

There are about ten places in Asia where the gharial is bred in captivity with the young released in to the wild at around the age of three. Another 8 centers in the US and 3 in Europe also offer some hope to the gharial.