Category Archive 'D Day'
10 Apr 2019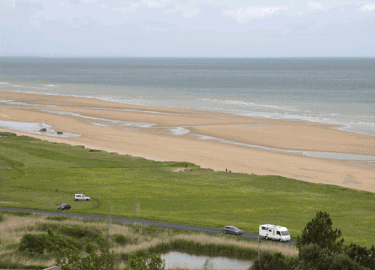 03 Jul 2014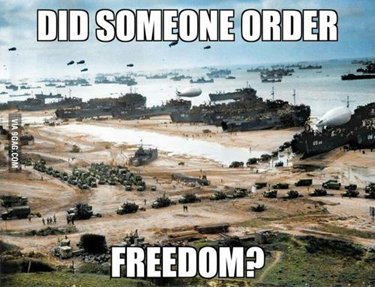 Via Selvish Soup.
06 Jun 2014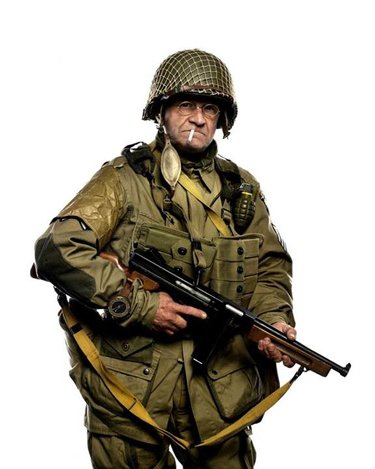 93-year-old Jim Martin yesterday successfully parachuted into Normandy wearing all the same equipment he wore 70 years ago when he jumped as part of the preliminary bridgehead seizing operations leading up to the D-Day Normandy Invasion.
"I'm feeling fine," Martin told reporters moments after landing in a French field. "… It was wonderful, absolutely wonderful."

Martin was part of the U.S. 101st Airborne Division that parachuted down over Utah Beach in their bid to retake France and, eventually, the rest of Europe from Nazi Germany. They actually touched down in enemy-controlled territory a night before what's referred to as D-Day.

His jump Thursday in the same area was different and — despite his being 93 years old now — a whole lot easier.

"It didn't (compare)," Martin said, "because there wasn't anybody shooting at me today." …

Seven decades later, Martin did it again — not fighting a bloody war but at least reliving his role in a military campaign that changed the course of history. Others joined him in this now daytime jump, though he was the only one from his generation.

This time, he said that he wasn't scared because, "once you get in the plane, you forget everything." Bored would be more like it.

As he told reporters afterward, "To tell you the truth, riding around in the plane is boring. It's when you get off the plane, that's when it gets exciting … But there's no fear to it. It's just something you do."

Martin admitted that he was motivated by "a little bit of ego, (to show that) I'm 93 and I can still do it."
20 Aug 2010

Major newspapers are publishing the obituary of Bill Millen, who piped the 15th Lord Lovat's First Special Service Brigade ashore on Sword Beach on D Day and onward to the relief of the 2nd Battalion Oxfordshire and Buckinghamshire Light Infantry who had landed in the early hours of the morning by glider and captured Pegasus Bridge over the Caen Canal.
Bill Millin, who died on August 17 aged 88, was personal piper to Lord Lovat on D-Day and piped the invasion forces on to the shores of France; unarmed apart from the ceremonial dagger in his stocking, he played unflinchingly as men fell all around him.

Millin began his apparently suicidal serenade immediately upon jumping from the ramp of the landing craft into the icy water. As the Cameron tartan of his kilt floated to the surface he struck up with Hieland Laddie. He continued even as the man behind him was hit, dropped into the sea and sank.

Once ashore Millin did not run, but walked up and down the beach, blasting out a series of tunes. After Hieland Laddie, Lovat, the commander of 1st Special Service Brigade (1 SSB), raised his voice above the crackle of gunfire and the crump of mortar, and asked for another. Millin strode up and down the water's edge playing The Road to the Isles.

Bodies of the fallen were drifting to and fro in the surf. Soldiers were trying to dig in and, when they heard the pipes, many of them waved and cheered — although one came up to Millin and called him a "mad bastard".
WSJ:
His bagpipes, which were badly damaged by shrapnel a few days after D-Day were given a permanent home in the National War Museum of Scotland in 2001.
Hielan Laddie, played stepping off the landing craft: 1:11 video
Road to the Isles, played on Sword Beach: 1:05 video
All the Blue Bonnets Over the Border, played at Pegasus Bridge: 1:41 video
Bill Milan depicted piping in D Day movie The Longest Day (1962) 3:43 video