09 Oct 2015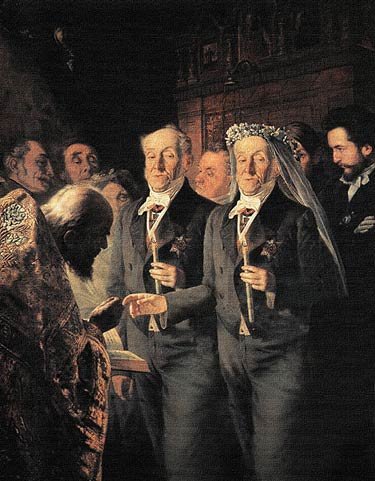 Photoshopped version of: Vasili Pukiriev, Неравный брак [The Unfitting Marriage], 1862
More than sixty prominent legal scholars are out with a statement saying the Supreme Court's Obergefell decision "cannot be taken to have settled the law of the land." Therefore the scholars are calling upon federal and state office holders, along with regular citizens, to act as if the decision is invalid.

The scholars write that the bare-majority decision on gay marriage lacks "anything remotely resembling a warrant in the text, logic, structure, or original understanding of the Constitution." The ruling "must be judged anti-constitutional and illegitimate," they say.

Signers of what some will consider a controversial proposition include Professor Robert George of Princeton University, who said, "We stand with James Madison and Abraham Lincoln in recognizing that the Constitution is not whatever a majority of Supreme Court justices say it is. We remind all officeholders in the United States that they are pledged to uphold the Constitution of the United States, not the will of five members of the Supreme Court."

Specifically, the signers are telling office-holders to, "refuse to accept Obergefell as binding precedent for all but the specific plaintiffs in that case, recognize the authority of states to define marriage, and the right of federal and state officeholders to act in accordance with those definitions."

The letter urges government officials to, "pledge full and mutual legal and political assistance to anyone who refuses to follow Obergefell for constitutionally protected reasons, and to open forthwith a broad and honest conversation on the means by which Americans may constitutionally resist and overturn the judicial usurpations evident in Obergefell."

They remind office-holders that they pledge to uphold the Constitution of the United States, "not the will of five members of the Supreme Court."

They cite Presidents Madison and Lincoln as justification for their position. President Lincoln acted as if the Dred Scott decision — that neither slaves nor free blacks could be considered American citizens and that the federal government had not right to regulate slavery in the federal territories — was illegitimate and he refused to recognize that it effected anyone in the country except the immediate plaintiffs.

The letter was signed by scholars from a wide range of academic institutions including Kansas State, Boston College Law School, Boston University, Michigan State University, Texas Tech, University of Oxford, Villanova, Vanderbilt, Amherst, Notre Dame, Catholic University of America and many others.