22 Mar 2020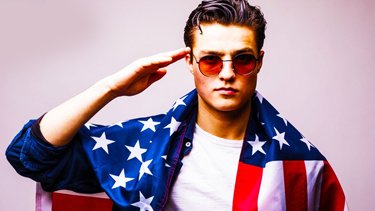 Chadwick Moore has America pegged.
When something truly unnerving arrives, like a global pandemic, America serves up just the right pitch of high-octane, Hollywood disaster-flick pandemonium to make the whole thing a bit zanier and more camp. The world depends on us for that. We invented the genre. China may have unleashed a deadly and mysterious new virus but Americans have long infected the planet with our sense of drama.

That's what we do. Americans are in the business of entertainment, not only with our films, but our politics, vapid celebrities, and gregarious displays of mass hysteria when a crisis hits. Or, when there's no crisis at all — like a vote recount, a sex scandal, or the release of a new iPhone — America remains Earth's favorite reality TV show.

We can't help it. We're exhibitionists by nature and a highly theatrical, expressive people. When a camera is rolling, average Americans, more than other nationalities, know the game, and we're ready to perform. Local news stations across the US provide the world with its greatest viral video stars. If you doorstep a stranger in Possum Gulch, Arkansas, at a Gristedes on the Upper West Side, or outside a housing project in Nashville, Tennessee, chances are you're going to meet a real character who's eager to put on a show. We're that way off camera, as well. I recall, in my early twenties, living in a cramped London flat with four Brits and three Americans. If we all were gathered in the common room the Brits would sit back, utterly amused, and watch the Americans interact, as though we were a sitcom. 'You're like an episode of Friends', one said. 'You're like cartoon characters', another said. We know, thanks!
HT: Karen L. Myers.