28 Apr 2022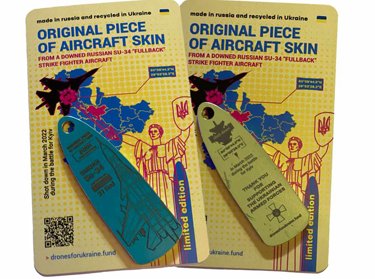 Here's a worthy fundraiser.
Drones for Ukraine has a unique fundraising tool: Donate $1,000 or more to their effort to procure modern drones to defend against the Russian invasion, get a genuine piece of aircraft skin from a downed Russian jet fighter.

"Have you always wanted a Su-34 'Fullback' strike fighter?" the Twitter pitch goes. "But $50M is a little bit pricey?"

As a matter of fact, $50 million is a little pricey. I've got two boys, and you should see our monthly food bill.

But: "Just donate $1000+ to support Ukrainian army and we'll send you this tag recycled from a downed Russian plane (it's literally a piece of it with little engraving)."

"Made in Russia, Recycled in Ukraine" is a pretty gutsy tagline, too.

"Your donations will help us supply the defenders in Ukraine with modern drones and equipment to counter the invasion," according to the website. So your donation in exchange for a piece of a shot-down Russian jet might just help Ukraine shoot down another one.

The Su-34 is Russia's top-of-the-line fighter/bomber, a modernized and (very) upgraded strike version of the Su-27 Flanker. The Russian Air Force (VVS) took delivery of the first Flankers from Sukhoi in 2006, and they've seen combat in Syria, (probably) Georgia, and (of course) Ukraine.

The two-seat, twin-engine jet is roughly equivalent to an American F-15E Strike Eagle and is generally considered one of the more capable fourth-generation fighters.

Only 129 Fullbacks are known to have been built for the VVS, seven of which are believed to have been shot down or otherwise lost in Ukraine.