29 Aug 2016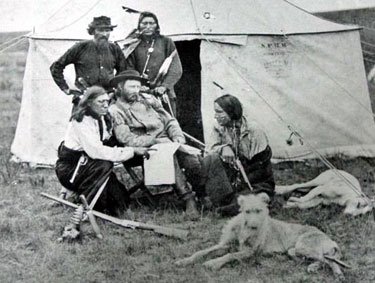 George Armstrong Custer with his original staghounds, Blucher and Maida. The Indian Scout Bloody Knife is at Custer's righthand side.
Between 1867 and 1875, George Armstrong Custer contributed fifteen letters, published under pseudonym "Nomad", to the New York-based sportsman's journal Turf, Field and Farm. His letter indicate that Custer spent most of time, when not fighting Indians, hunting big game on the Western plains accompanied by a couple of Scottish staghounds.
Dutch Salmon reports finding a letter in an old issue of Forest & Stream that contends that Captain Miles Keogh's horse Comanche may not have really been the sole four-footed survivor of five companies of the 7th Cavalry's Last Stand, 25 June 1876.
Most accounts have it that when Custer and the Seventh Cavalry rode to their doom at the Little Bighorn, his hounds were left behind in camp. However, in a 1907 letter to the old Forest and Stream magazine, a reader wrote that he had seen one of Custer's hounds—"one of the pair that came from Queen Victoria"—at Ft. Washakie in September, 1882. The correspondent added:

"Three days after the fight, when a scouting party reached the battle ground where Custer and the few survivors had made their last stand, the greyhound was found lying down near his dead master. A rifle bullet had struck him near the eye which made him blind on that side, but otherwise he was uninjured. He was taken good care of by the party and finally found a master in Lieut. R.E. Thompson, of the Sixth Infantry, who was stationed at Washakie when I was there. It was the lieutenant himself who gave me the above details concerning the dog."

Was the dog truly a greyhound? Or was it one of the staghounds, a greyhound in rough coat?