Category Archive 'Edward Hopper'
01 Jan 2020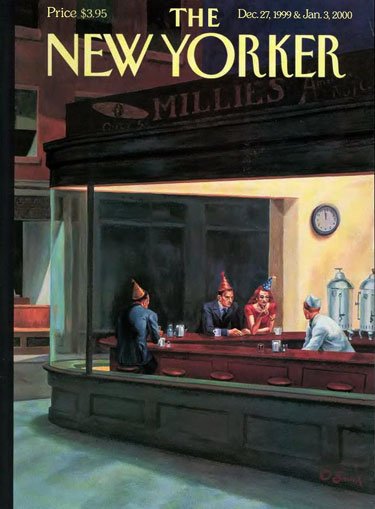 29 Oct 2018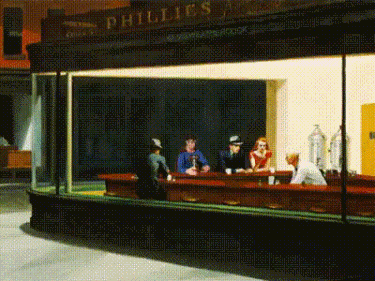 25 Jul 2018

03 Jan 2018

01 Jan 2018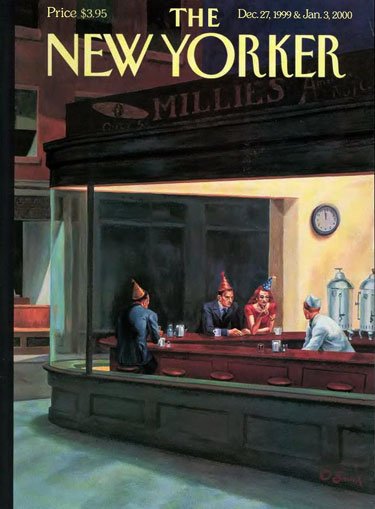 31 Dec 2016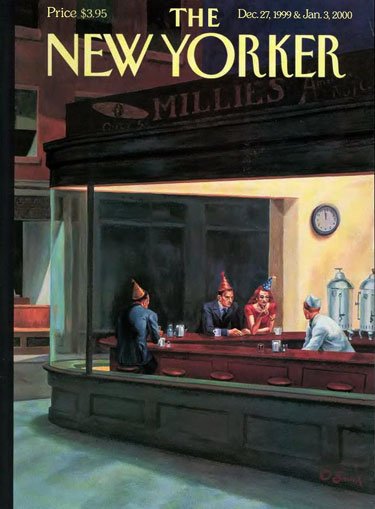 22 Nov 2016

06 Sep 2016

"My culture is a very dominant culture, and it's imposing and it's causing problems. If you don't do something about it, you're going to have taco trucks on every corner."
—Marco Gutierrez, founder of the group Latinos for Trump.
Hat tip to David Larkin.
01 Jan 2016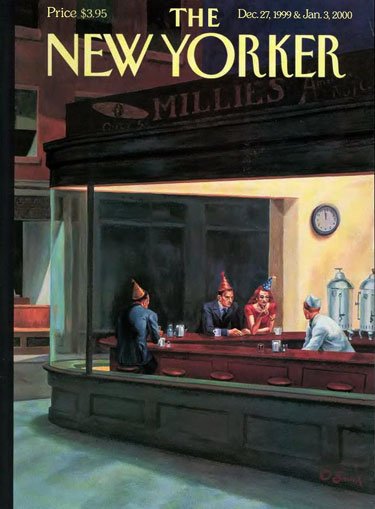 01 Jan 2015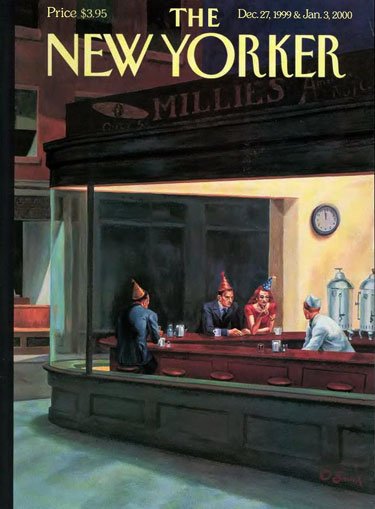 21 Oct 2014


Edward Hopper, Bridle Path, 1939, formerly San Francisco Museum of Modern Art, now privately owned. Sold for $10,386,500 at a Sotheby's auction in 2012 to allow the SFMOMA to purchase a different Hopper.
SFMOMA evidently preferred a more characteristic Hopper painting, presenting a gritty image of Mid-20th Century Everyman's loneliness and alienation to this glimpse of Pre-WWII, American Upper-Crust ecstasy.
The New York Times in 1994 described the rise and decline of riding in Central Park.
The 1856 plan for Central Park by Frederick Law Olmsted and Calvert Vaux did not provide for horseback riding, although the planners did not expressly oppose it. William Alex, president of the Frederick Law Olmsted Association, said the bridle paths were among 17 suggested changes in the Central Park plan made by Robert J. Dillon, one of the original Central Park Commissioners, a Democratic politician and two-term Corporation Counsel.

Dillon's proposals included waiting to lay out pathways until pedestrians established them by habit, and extending the Mall over the lake and up to Belvedere Castle with a large suspension bridge.

Olmsted & Vaux were able to fend off most meddling, but Dillon's suggestion for bridle paths survived. By 1863 six miles of gravel- and sand-surfaced paths extended from 59th Street and Fifth Avenue to the west side of the park and around the reservoir. The rules of the park for 1873 specifically allowed horseback riding "with a free hand and a rapid rate of speed," something not allowed anywhere else in the city.

The 1886 Appletons' Dictionary of New York City said that renting a horse cost $3 for an afternoon. The Sun's Guide to New York of 1892 noted that the stables' business fell off markedly in the summer, when their patrons "go to the seashore or to the mountains."

The soft surfaces of the bridle paths required intensive maintenance; the 1908 report notes that they were harrowed and leveled every evening and watered in the summer.

A 1929 editorial in The New York Times recalled the days when there were several hundred horses available from stables and riders frequently rode to the north end of the park, then up Seventh Avenue and along the Harlem River, and back down a bridle trail in Riverside Park.

In 1964, Hart's Guide to New York City reported that there were only 50 horses for rent, out of Claremont Stables at 175 West 89th.

By the 1970's the bridle paths were a shambles.
Claremont Riding Academy (where I used to rent horses to ride in early mornings in the Park) was located on West 89th Street. It closed forever in 2007. Wikipedia:
The location of the stable made for an unusual experience in the equestrian world: riding in heavy traffic. The stable was not in Central Park itself, but a block and a half away. Getting to the park required riding a horse on Manhattan streets, mixed in with the regular traffic, and crossing Central Park West.

The Academy was dependent on the structural condition of the bridle paths in nearby Central Park, as this was the primary designated area for horseback riding in Manhattan. At some point, the city allowed the bridle paths to be used by pedestrians, joggers, bicyclists and others, and discontinued structural maintenance of the paths. With the overuse of the paths in combination with the city's discontinuance of maintenance, riders were no longer able to canter on the pathways, ending one of the pleasures of horseback riding which deterred new ridership. Due to declining patronage and increasing cost from renovations and taxes, Claremont closed forever at 5 p.m. April 29, 2007.
When I rented my first horse from Claremont, I was surprised to find that I'd been presented with a double bridle. (I was accustomed to riding only with a snaffle.) But, when the time came to ride through city traffic and the need to stop at a traffic light before crossing Central Park West arose, I was very happy indeed that I also had a curb bit at my disposal.
Some rather preposterous and pretentious interpretations of the painting, in French, (by a non-rider) are here.
John R. Shipp interprets the painting (in English). I'm afraid that I do not agree with his supposed connections myself. I think Hopper just chose to paint an image of three people riding at a gallop at a particular piece of Central Park architecture.
From Ratak Monodosico.