16 Jul 2020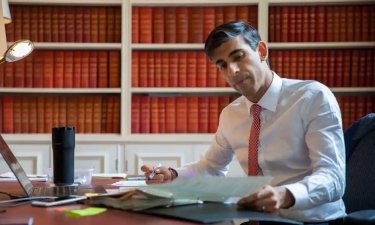 Chancellor of the Exchequer Rishi Sunak was photographed working, with a $179.95 Coffee Mug on his desk.
Class warfare is popular in Britain, and the current Tory Chancellor inadvertently afforded Labourites a chance to mau-mau him by letting the Press catch sight of an expensive high-tech self-heating coffee mug (the Ember travel mug) sitting on his desk.
[[T]he current chancellor, Rishi Sunak, appears to have gone one step further in the traditional pre-budget photo opportunity by posing with a "smart mug" costing £180.

A series of snaps released by the Treasury show Sunak at work, with the expensive gadget on his desk as he pores over the details of the mini-budget he will deliver to the Commons on Wednesday.

The Ember travel mug, reportedly a gift from his wife, Akshata Murthy, the daughter of a billionaire businessman, retails for up to £179.95 online, with a product description boasting that it "does more than simply keep your coffee hot".

It adds: "Our smart mug allows you to set an exact drinking temperature and keeps it there for up to three hours, so your coffee is never too hot, or too cold." The 355ml mug is apparently dishwasher safe and even includes a charging coaster.
——————-
Rupert Hawksley, in the Spectator:
Rishi Sunak found himself in hot water last week, though fortunately it was not too hot. Just the right temperature, in fact. The Chancellor was photographed at his desk with a £180 'smart mug', which keeps his drink somewhere between 50°C and 62.5°C for up to three hours on the move or indefinitely if placed on its charging coaster. Very sensible, you might think; but some thought the picture was revealing. Labour MP Beth Winter was quick to point out that her mug, turquoise and shaped like a dinosaur, had cost just £3. 'No wonder,' Winter tweeted, 'he said no when I asked him this week about a wealth tax.'
It being Britain, they probably drink their horrible tea with milk out of it.