18 May 2016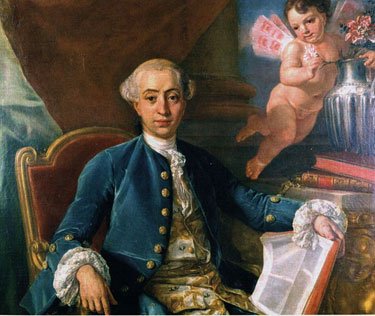 Anton Raphael Mengs, Giacomo Casanova, 1760, Current Location Unknown
David Coward celebrates the appearance of the Gallimard's Pléiade first three volumes of a new, unexpurgated and annotated (French language) edition of the 12-volume memoirs of the 18th Century most renowned "Man of the World" in the Times Literary Supplement.
Casanova's detailed recollections of half a century of restless activity is one of literature's frankest and most honest self-portraits. He was not without vanity but in his writing he is open about his qualities and failings. He emerges as a man of many contradictions: a freethinker and staunch Catholic, a sceptical rationalist and a practising necromancer, a free spirit and establishment boot-licker, a man of principle and an opportunist, a scoundrel, a snob, both coward and hero, at ease with persons of every class, generous, mean, clever and stupid, a cheat who was gullible, a con man who was easily fooled.

If his bouncing optimism makes him such an engaging picaro, his observant eye and openness to experience qualify him to be an exceptional witness to the world of the Enlightenment. Casanova was comfortable with himself and at home wherever he went. Rome, Vienna, Prague and Paris were stops on a circuit frequented by the same church dignitaries, ambassadors and bankers, the same travelling merchants, actors and singers and the same cast of itinerant scoundrels, prostitutes and outcasts. His Europe was cosmopolitan vertically and horizontally, a permanent travelling circus where high and low rubbed elbows in the same salons, gambling houses, theatres and bagnios. His stamina was phenomenal and not limited to his endless machinations and amours. He crisscrossed Europe from Venice to Moscow to Paris and Madrid covering many thousands of miles in unsprung, unheated coaches on unmade roads at 6 miles an hour. A modest day's travel in a carriage meant five or six hours' trundling towards a night's lodging in a flea-bitten inn. Yet he loved to travel. Travel offered adventure, new sights, the chance of meeting new people and, not least, time to keep up with his reading. In 1759, in a chaise from Paris to Amiens, for example, he read d'Holbach's deterministic essay, De l'Esprit. He did not think much of it.

Intellectual curiosity and an appetite for books led him to an eclectic view of the world derived from writers ancient (from which he quoted constantly) and modern. He drew his moral ideas from Horace and Pierre Gassendi, and his rational view of God's universe from Locke, Newton and their Enlightenment successors. He never developed a philosophy of his own, but was quick to see the flaws in the philosophies of others. He told Voltaire to his face that his war on superstition was wrong-headed: teach a man to believe in nothing and he will, as Chesterton would later observe, believe in anything. Rare among his contemporaries, he saw that Rousseau was a masochist who planned a world tailored to suit his failings. Politically, he loved kings, but conceded that whatever the regime the common people invariably suffer. He loathed the French Revolution, which destroyed his world, and hated the violent terrorist Robes­pierre whom he regarded as the fundamentalist spawn of the disturbed "visionary", Rousseau.